Fri Nov 23, 2018, 04:20 PM
appalachiablue (22,344 posts)
'Mannose' Sugar Found in Cranberries, May Slow Cancer Development
BBC News, Nov. 21. A nutritional supplement may be able to slow the development of some cancers and enhance the effects of treatment, a study in mice suggests. Mice with pancreatic, lung or skin cancer were given mannose, a sugar also found in cranberries and other fruits. It significantly slowed the growth of their tumours, with no obvious side-effects, researchers found.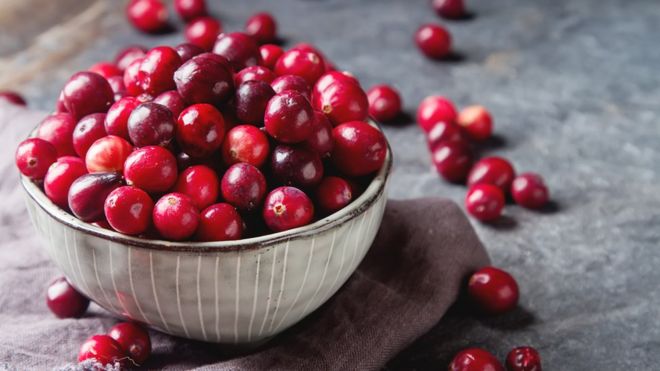 - Mannose is available as a supplement but is also found naturally in fruits such as cranberries
However, patients are being told not to start supplementing with mannose because of the risk of side-effects. Scientists hope to test the supplement in people soon. Mannose, which can be bought in health food shops and is sometimes used to treat urinary tract infections, is thought to interfere with the ability of tumours to use glucose to grow.
'Perfect balance' Scientists also looked at how mannose might affect cancer treatment by giving it to mice that had been treated with two of the most widely used chemotherapy drugs, cisplatin and doxorubicin.
They found it enhanced the effects of chemotherapy, slowing the growth of tumours and reducing their size. It also increased the lifespan of some mice. In further tests, cells from other types of cancer, including leukaemia, osteosarcoma (bone cancer), ovarian and bowel cancer were exposed to mannose in the laboratory. . .
*Supplement warning. One advantage of mannose is that it is cheaper than drugs produced by pharmaceutical companies. And Prof Ryan said he hoped tests in people could begin soon. However, he and other experts warn that the findings do not mean people with cancer should start supplementing with mannose. Martin Ledwick, Cancer Research UK's head nurse, said: "Although these results are very promising for the future of some cancer treatments, this is very early research and has not yet been tested in humans. -READ MORE,
https://www.bbc.com/news/health-46291919
3 replies, 819 views
Replies to this discussion thread
| | | | |
| --- | --- | --- | --- |
| 3 replies | Author | Time | Post |
| 'Mannose' Sugar Found in Cranberries, May Slow Cancer Development (Original post) | appalachiablue | Nov 2018 | OP |
| | pansypoo53219 | Nov 2018 | #1 |
| | appalachiablue | Nov 2018 | #2 |
| | mopinko | Nov 2018 | #3 |
---
Response to appalachiablue (Original post)
Fri Nov 23, 2018, 06:10 PM
pansypoo53219 (17,176 posts)
1. i love cranberries. and very good added to blueberry pie.
---
Response to pansypoo53219 (Reply #1)
Fri Nov 23, 2018, 06:19 PM
appalachiablue (22,344 posts)
2. Sounds yummy and very healthy. :)
---
Response to appalachiablue (Original post)
Fri Nov 23, 2018, 10:28 PM
mopinko (54,843 posts)
3. i hate these bbc articles.
seems like they have a new, stupid "cure" for cancer weekly, at least.

i clicked through to the actual study. it is, of course, a whole lot more complicated.