Thu Apr 24, 2014, 01:10 PM
bvar22 (39,909 posts)
It just seems so WRONG!!!...Harvesting Asparagus
([font size=1]
First posted to Rural/Farm in March of 2012[/font]
We started harvesting again last week, and everything looks exactly the same.)
The first
edible
that pops up out of the ground on our place announcing the advent of SPRING is
Asparagus
!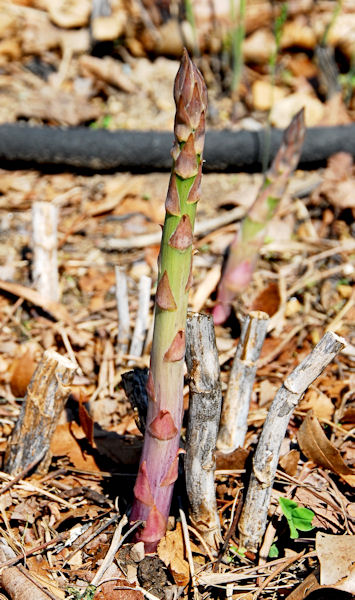 "HI!! I Bring Good News! Its SPRING!! Winter is OVER!!!
"
...and the first thing we do this this early
Bringer of the Good News
is
cut it off at the ground
.
(ans steam it, and eat it with moans of delight)
It just seems SO wrong.
Everything
else in our Garden, upon showing signs of life after the dark of Winter is
nurtured
,
cared for with tenderness, fertilized, weeded, and visited daily with loving appreciation.
Days, sometimes weeks will pass in agonized anticipation of a Tomato or a Strawberry reaching that perfect ripeness before it is harvested...
...but NOT Asparagus.
As soon as it pops UP,
Off With Its Head!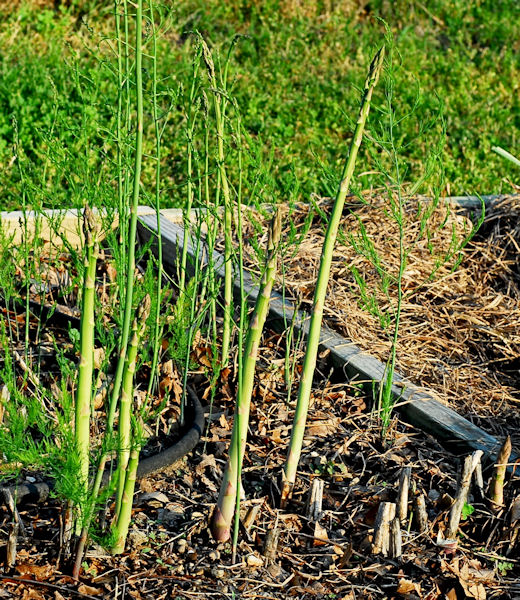 (The thin ones are seedlings from last year's seeds that dropped in the bed.
The thicker ones should have been cut yesterday.
The shorter brown stubs are the stalks from last year's standing crop that were cut off last Fall.)
If immediate decapitation is not bad enough,
it can get even more brutal.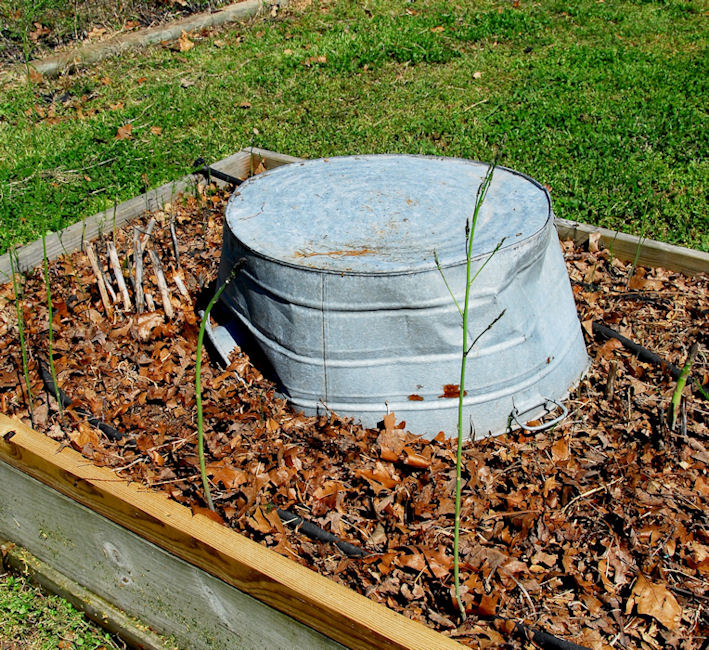 Hey. Lets cover up the babies so they can't get any light!!!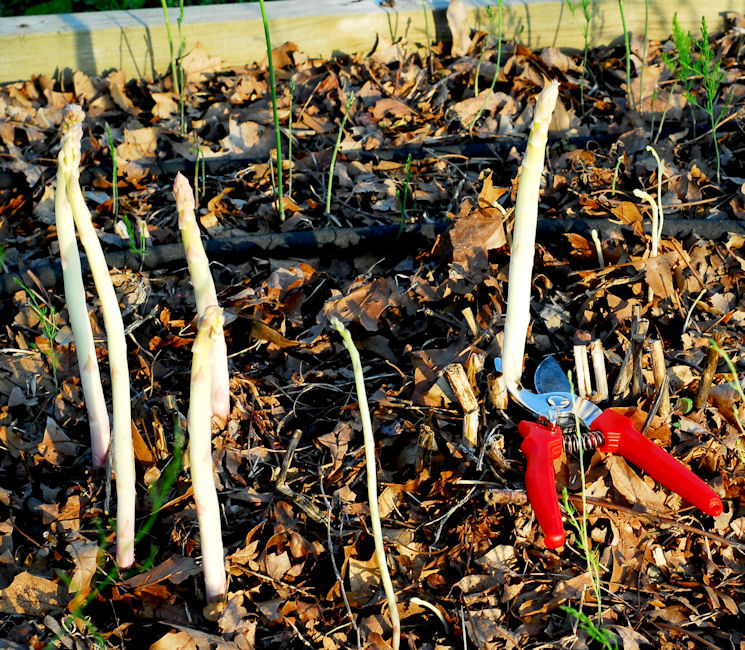 Light Deprivation produces
White Asparagus
that is even more tender.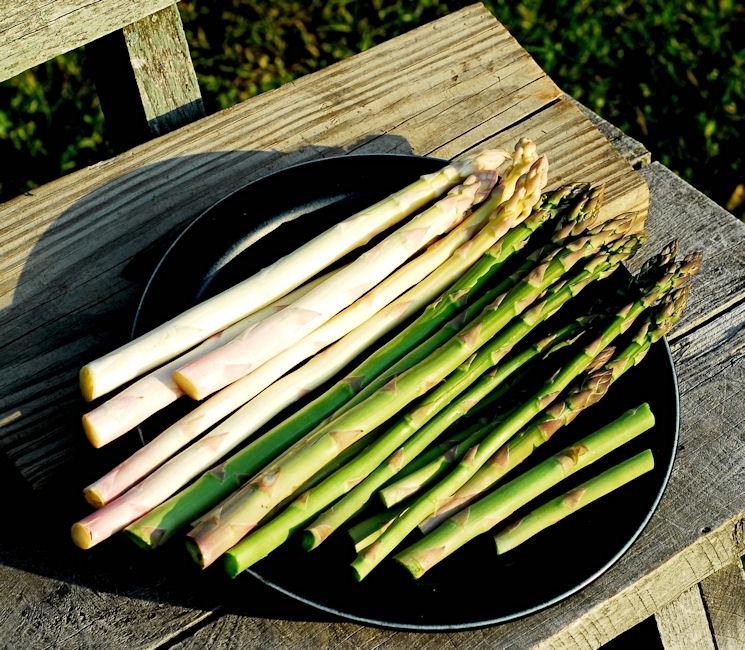 YUM!
We love this stuff so much that we added another variety, and two more beds this year.
Asparagus is one of the very few
Perennial
vegetables.
A well maintained bed will produce for many years.
Our original bed is 4 years old, and producing beyond our expectations.
It has been trouble free, with no pests, diseases, or any special needs.
(There is an Asparagus Beetle, but we haven't seen one here yet.)
After harvesting (4 - 6 weeks in a mature bed),
the stalks are left standing for the rest of the Summer,
and cut off at ground level when they turn brown in the Fall.
Asparagus Beds are
self-weeding
for the most part because the plants grow so tall & thick that weeds don't really have a chance. After the
Spring Harvest
, we just give it a little water if we don't get any rain, and just watch it grow.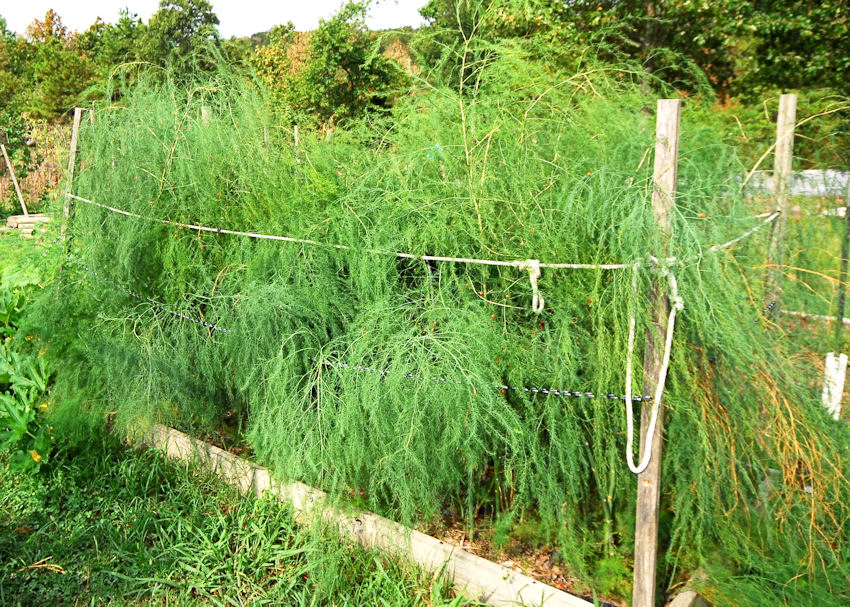 This is a beautiful plant, very lacy and ethereal.
It grows very tall, over 6', so I suggest locating it along the fence.
Asparagus has been the most
trouble free/ low maintenance
crop we have grown here,
and the taste and tenderness of fresh cut Asparagus is better than anything that can be bought in a market,
or ordered in a
high end
restaurant.
We prefer our lightly steamed with a little butter.
In 2006, My Wife & I sold everything,
left the Big Northern City (Minneapolis),
and moved to
The Woods
of West/Central Arkansas (Ouachita Mountains).
We are committed to living as independently and as sustainability as possible.
http://www.democraticunderground.com/discuss/duboard.php?az=view_all&address=268x2601
8 replies, 3692 views
Replies to this discussion thread
| | | | |
| --- | --- | --- | --- |
| 8 replies | Author | Time | Post |
| It just seems so WRONG!!!...Harvesting Asparagus (Original post) | bvar22 | Apr 2014 | OP |
| | Scuba | Apr 2014 | #1 |
| | dixiegrrrrl | Apr 2014 | #2 |
| | bvar22 | Apr 2014 | #3 |
| | Curmudgeoness | Apr 2014 | #4 |
| | lululu | Apr 2014 | #5 |
| | bvar22 | Apr 2014 | #6 |
| | NEOhiodemocrat | Apr 2014 | #7 |
| | Aerows | May 2014 | #8 |
---
Response to bvar22 (Original post)
Thu Apr 24, 2014, 01:13 PM
Scuba (53,475 posts)
1. Get 'em while they're still small. Once they've grown too big, asparagus stalks are bitter.
I'm always amazed when otherwise nice restaurants serve overgrown asparagus.
---
Response to bvar22 (Original post)
Thu Apr 24, 2014, 01:36 PM
dixiegrrrrl (59,346 posts)
2. A delicious way to cook them
is fast stir frying in a bit of olive oil and a splash of soy sauce.
cut them at an angle into 1 inch pieces.
takes about 3-4 minutes in a hot wok.
scrumptious.

Warning to all who read this: canned asparagus is an abomination.
---
Response to dixiegrrrrl (Reply #2)
Thu Apr 24, 2014, 05:19 PM
bvar22 (39,909 posts)
3. Thanks.
Sounds delish.

Over the next 6 weeks, we will be trying a lot of recipes.
Starkraven makes a great Hollendaise,
but our favorite is just steamed,
and dipped in butter.








---
Response to dixiegrrrrl (Reply #2)
Thu Apr 24, 2014, 07:30 PM
Curmudgeoness (18,219 posts)
4. I do it that way as well as steaming.
Olive oil with garlic in it, then cook diced chicken in it. Add a bunch of asparagus and stir fry for a couple of minutes. Served over angel hair pasta. Yum.

And yes, I have tried canned asparagus when it was the wrong time of year, and it truly is an abomination. Now I use frozen if I must have this dish at a time when I can't get fresh, or it is too expensive and not good quality to boot. Not the same as fresh, but that's how it goes.

---
---
Response to lululu (Reply #5)
Sat Apr 26, 2014, 06:29 PM
bvar22 (39,909 posts)
6. No. No Blog,
Though we really should have one.
We used to use the
Garden
and
Rural/Farm Living
Forums at DU as an impromptu blog,
but stopped doing it as so many were struggling to feed themselves and their family.
We have been so lucky.
We stopped posting 2009.
We are thinking about compiling everything into a book:
"So you want to move to the Country and grow your own food?
Some things you should know."
There are a few more Photo Essays posted at DU if you are interested:
http://www.democraticunderground.com/discuss/duboard.php?az=view_all&address=439x2477566
---
Response to bvar22 (Original post)
Sat Apr 26, 2014, 07:05 PM
NEOhiodemocrat (912 posts)
7. Just looking for mine today, no sign of them yet in Northern Ohio
I am on my third year of growing asparagus and have never heard of covering them and having white! How soon do you cover them up? And I guess just keep peeking under until they are right size? Sounds like fun, I want to try that.
---
Response to bvar22 (Original post)
Fri May 2, 2014, 10:07 PM
Aerows (39,961 posts)
8. Looks like a gorgeous crop there, bvar22 :)
I love Asparagus, too, and won't cast aspersions at yours
!