Fri Aug 3, 2018, 04:34 PM
Judi Lynn (136,684 posts)
Kids These Days: Unruly Goats Graze Hell Across Suburban Boise
August 3, 20184:15 PM ET
Disclaimer: These are not the goats that went on the lam in Boise. But they sure look just as sassy.
David McNew/Newsmakers/Getty Images
As the sun rose over Idaho on Friday, residents of suburban West Boise awoke to find some noisy new neighbors horning in on their yards: goats. A teeming host of hungry, grunting goats.
Local reporter Joe Parris got the scoop, tweeting a photo of the horde on hooves. They were unsupervised — no handlers, no herding dogs, not even a nanny.
"Updates to follow," he promised.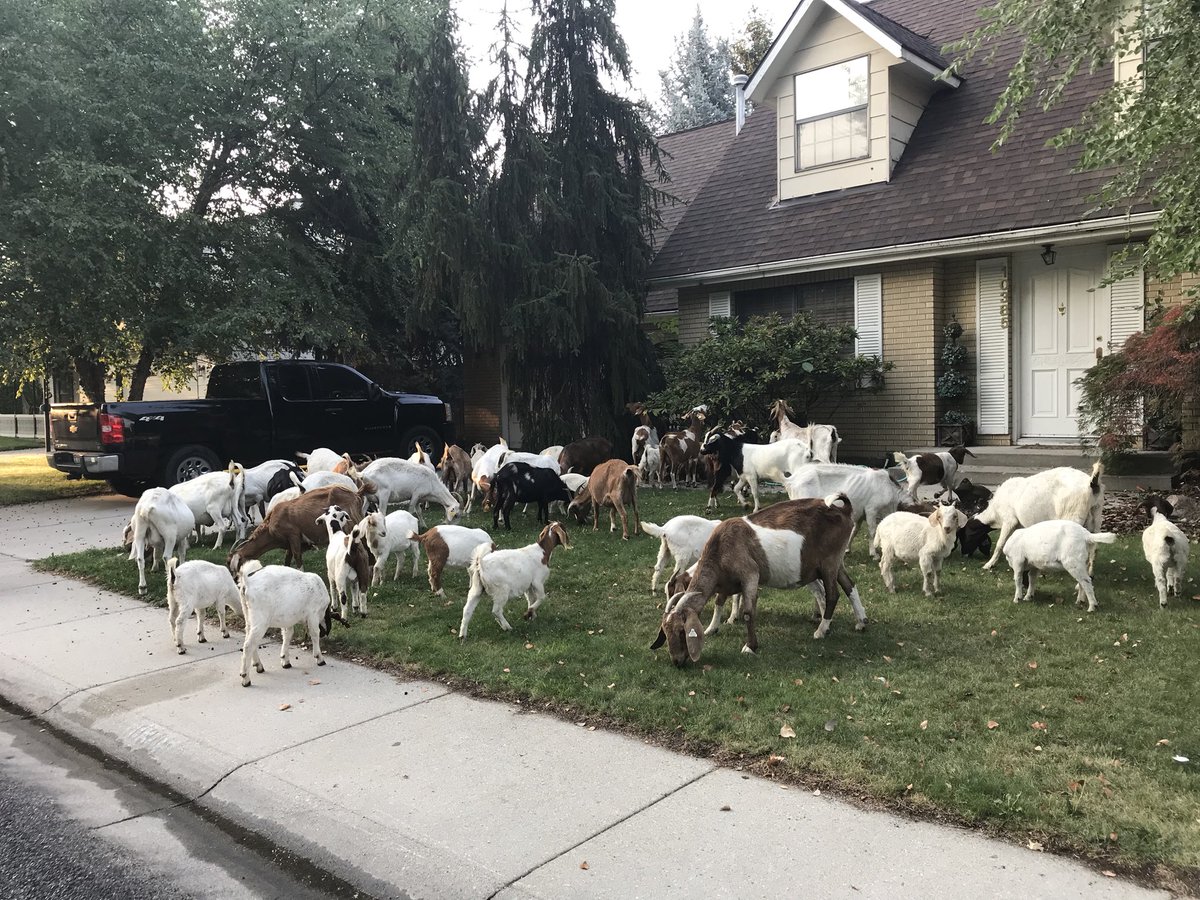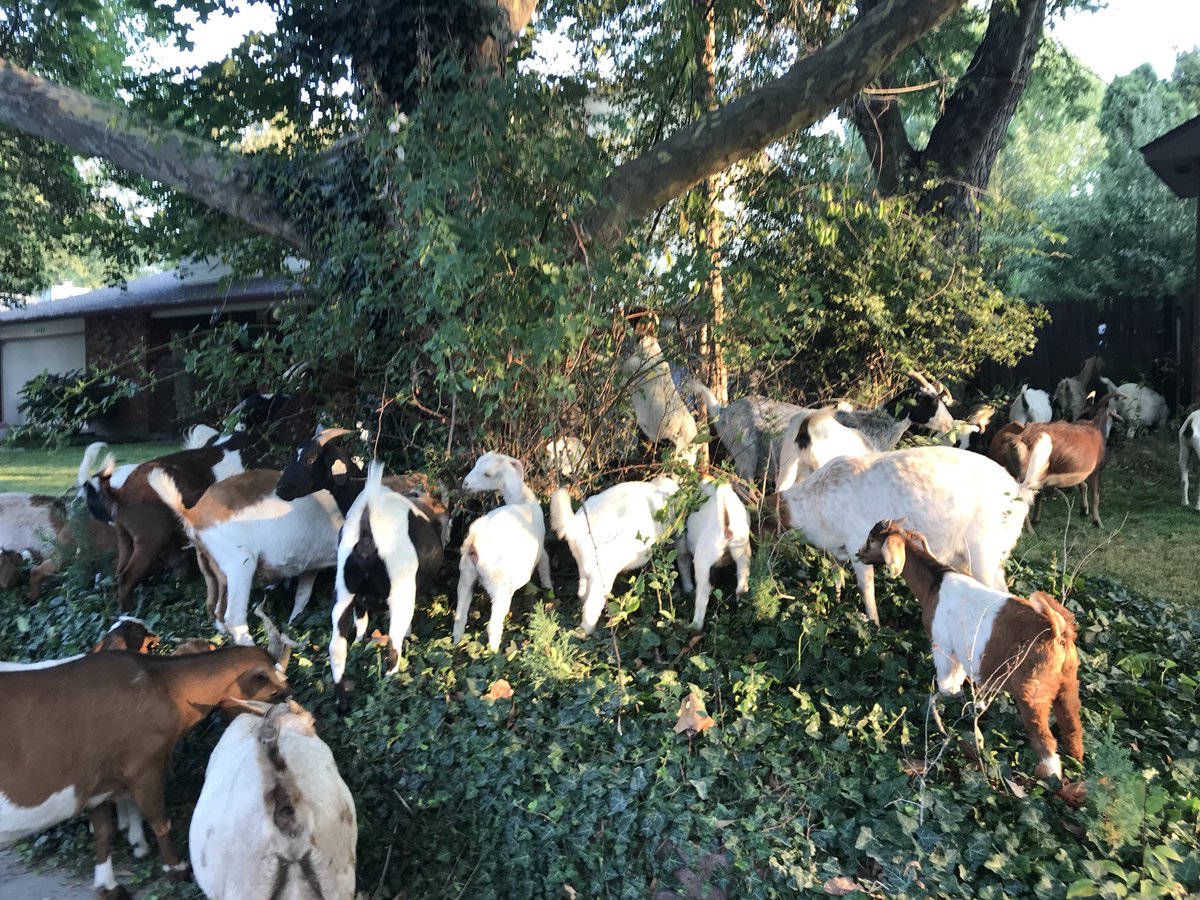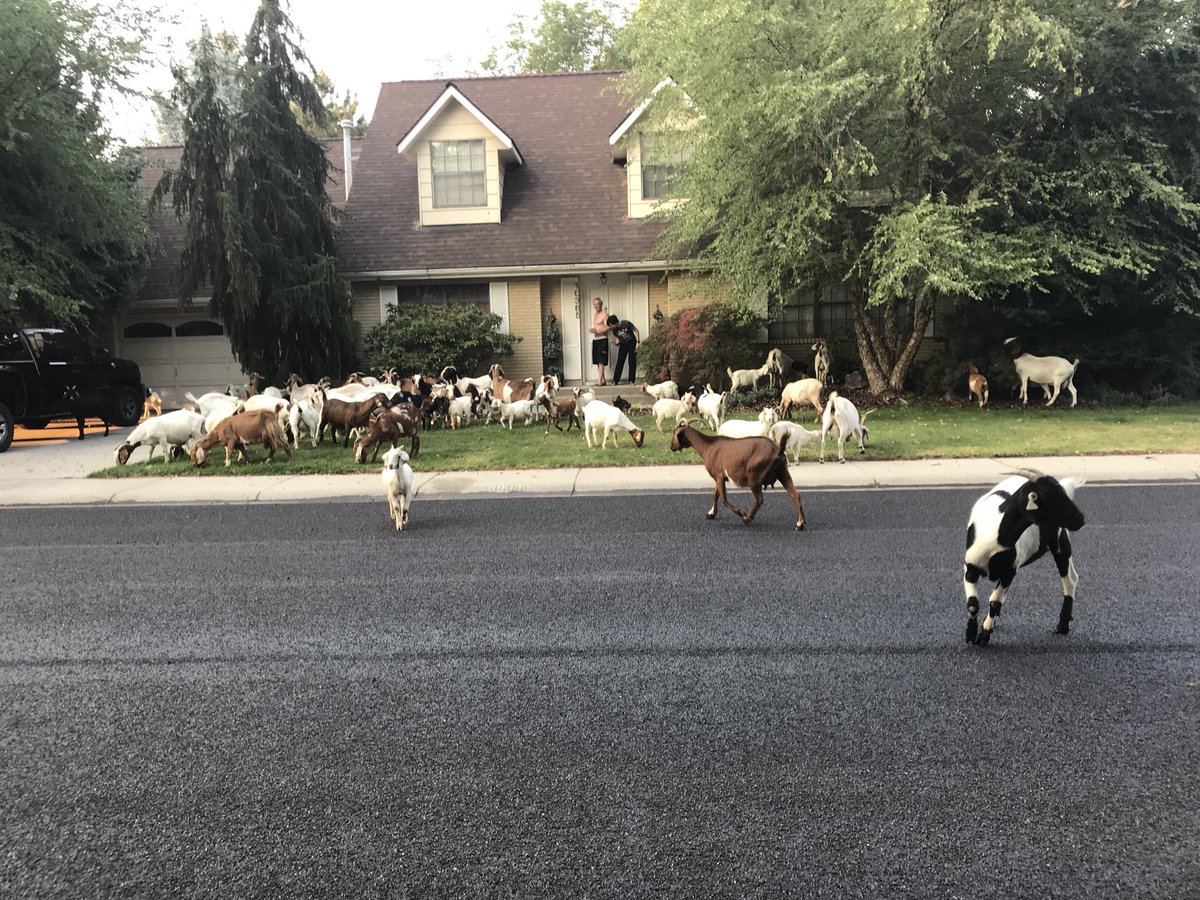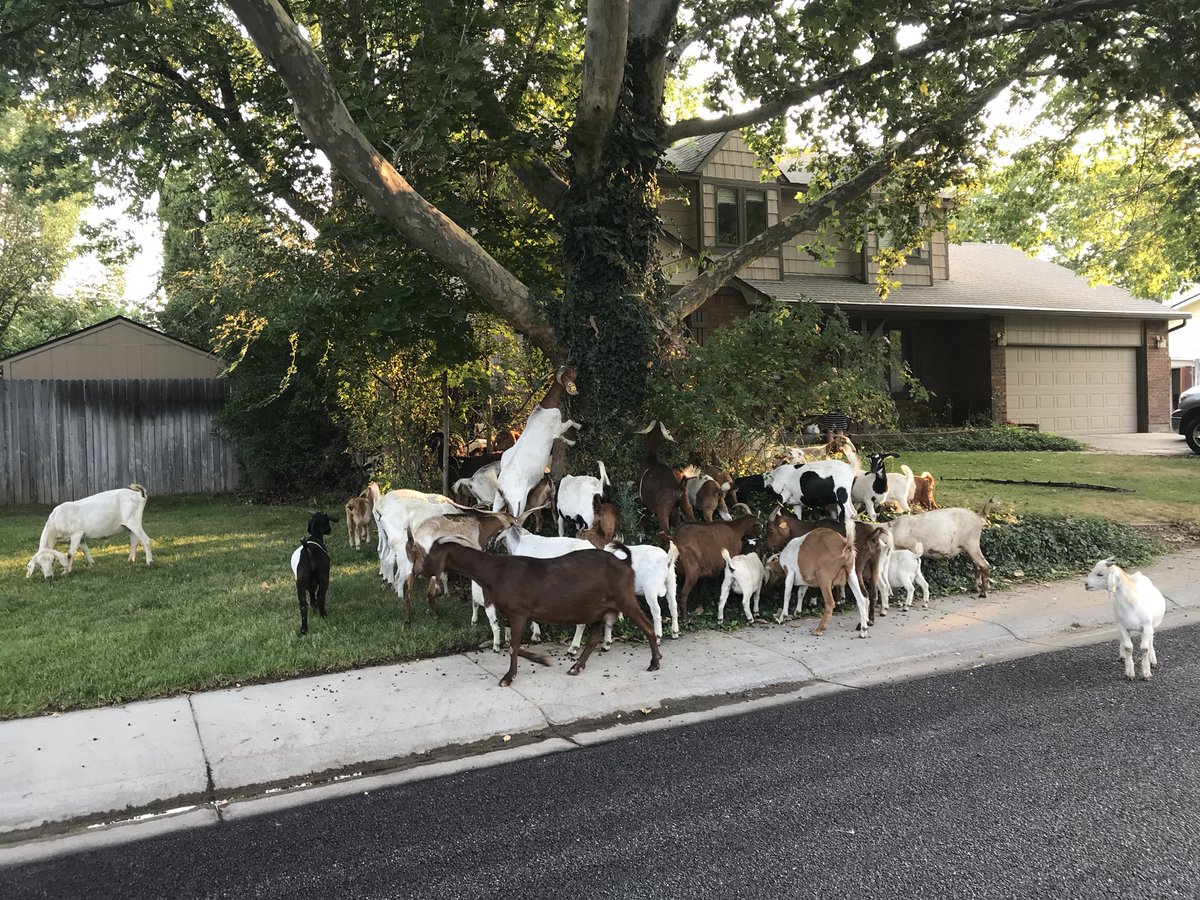 Link to tweet
But first came a half-hour of harrowing quiet from his account, as onlookers wondered whence came all the amazing grazers. What could be happening to those innocent lawns — and what motive drove so many goats to go on the lam?
As the reporter resumed tweeting, posting some truly moving images of the goats making hay, the world grasped at straws.
More:
https://www.npr.org/2018/08/03/635363609/escape-goats-run-wild-in-boise
3 replies, 645 views
Replies to this discussion thread
| | | | |
| --- | --- | --- | --- |
| 3 replies | Author | Time | Post |
| Kids These Days: Unruly Goats Graze Hell Across Suburban Boise (Original post) | Judi Lynn | Aug 2018 | OP |
| | Judi Lynn | Aug 2018 | #1 |
| | Judi Lynn | Aug 2018 | #2 |
| | Stonepounder | Aug 2018 | #3 |
---
Response to Judi Lynn (Original post)
Fri Aug 3, 2018, 05:14 PM
Judi Lynn (136,684 posts)
1. A Swarm Of Goats Got Loose And Descended On A Neighborhood
"I am ready for Goatpocalypse."
Headshot of Julia Reinstein
Julia Reinstein
BuzzFeed News Reporter
Last updated on August 3, 2018, at 1:00 p.m. ET
Posted on August 3, 2018, at 12:41 p.m. ET
Residents of a neighborhood in Boise, Idaho, woke up to an odd sight Friday morning: A swarm of goats was on the loose!
According to KTVB, about 100 goats were "going house to house eating everything in sight."
And no one could figure out where they'd come from.
More:
https://www.buzzfeednews.com/article/juliareinstein/goats-boise-on-the-loose-escaped
---
Response to Judi Lynn (Original post)
Fri Aug 3, 2018, 06:29 PM
Judi Lynn (136,684 posts)
2. Everything You Ever Wanted to Know About Renting a Goat
Leave the landscaping to the professionals.
By HEATHER SCHWEDEL
AUG 03, 20186:11 PM
Slate: What is the purpose of goat rental? Why would anyone want to rent goats?
Mike Canaday: In our business, we just use them strictly for the removal of brush and weed. It's a more sustainable way than weed-eaters and bulldozers, noisy and smelly machines. It's usually a pretty popular endeavor. When we bring goats into a neighborhood, kids love to watch the goats. Grandparents have a reason to invite the kids over to their homes, if it's a homeowner's association.
What are the types of organizations that tend to rent goats?
We only do large areas. We use about 450 to 500 goats at a time. We usually will work for government agencies, parks, water departments, drainage areas. We do some environmental work, where [certain places do] not allow any mechanical means of clearing an area. … The fire dangers are in the news every day. We do a lot of work with fire departments and cities and counties.
How much does it cost to rent goats?
Again, we don't do anything small, so it's all priced by the job. It could be anywhere from $400 an acre to $1,000 an acre.
Where are your goats based?
I'm in California. We have about 7,000 animals. They're in groups of 400 from Southern California all the way up to Northern California. When they get done with one job, they go to another job. The ones that are in Southern California stay in Southern California, the ones that are in the San Francisco area, they stay in that area, and the ones that are up by Santa Rosa stay in that area. They usually go in their own semitrailers. About 450 to 500 [can fit in one trailer].
More:
https://slate.com/technology/2018/08/everything-you-ever-wanted-to-know-about-renting-a-goat.html
---
Response to Judi Lynn (Original post)
Fri Aug 3, 2018, 11:50 PM
Stonepounder (3,911 posts)
3. Turns out the escaped from an agency like the one above.
The goats had been clearing brush and weeks nearby and escaped. The handlers commented that rounding up that many goats was 'a real pain'.

LOL!