Fri Dec 23, 2016, 02:04 PM
jberryhill (62,444 posts)
Dynamo Hub to USB
I thought this was going to be simple, and I suppose it can be, but using apps like MapMyRide, Google Maps, taking some pictures along the way, typically makes my ride outlast the charge in my phone. That's okay as long as I remember to leave fully charged and take a fully charged backup USB battery along, but had I not gotten a campsite with an electrical hookup a while back, I wouldn't have had three days of charge for my last multi-day excursion.
Enter the dynamo hub - There are several hubs built to the German regulation which requires a bike-powered light for riding at night. The hubs produce 6V AC and 3 W under nominal conditions. They run from Shimano Alfine ($70's and up) to the gold-standard SON (Schmidt's Original Nabendynamo, if you have to ask, you can't afford it). After reading a buttload of reviews and technical data, I settled on the Shutter Precision SP-PV8. Shutter precision has a part numbering system which is based on your wheel size and brake type (V brakes or disc brakes), and their performance is comparable to the SON at a much more affordable price point.
So, going from the 6V AC to USB (5V DC) is the trick, and I had considered making this a homebrew project around a rectifier and a buck/boost 5V regulator (e.g.
https://www.adafruit.com/product/2190
). There are a variety of boxes and "things you can cable tie onto you bike) which provide this function at a variety of price points. I was intrigued by the Sinewave Reactor:
...which is the lowest-profile "stem cap replacement USB port" available, but couldn't justify $220. The next closest competitor is "The Plug":
...which, to me, screams "HEY, THERE'S SOMETHING COOL ON THIS BIKE WORTH STEALING!"
Eventually, I found this guy at cycle2charge.de
While it's a little bulbous, the lettering is easily blacked out with a Sharpie, and the outer jacket rotates to close the USB port from view. It looks like a bike bell on the stem. Another nice thing about it is that if your fork is not hollow down to the bottom, it has an alternate off-stem mounting configuration.
So, after having the bike shop re-lace the wheel around the dynamo, I got these two things wired up today: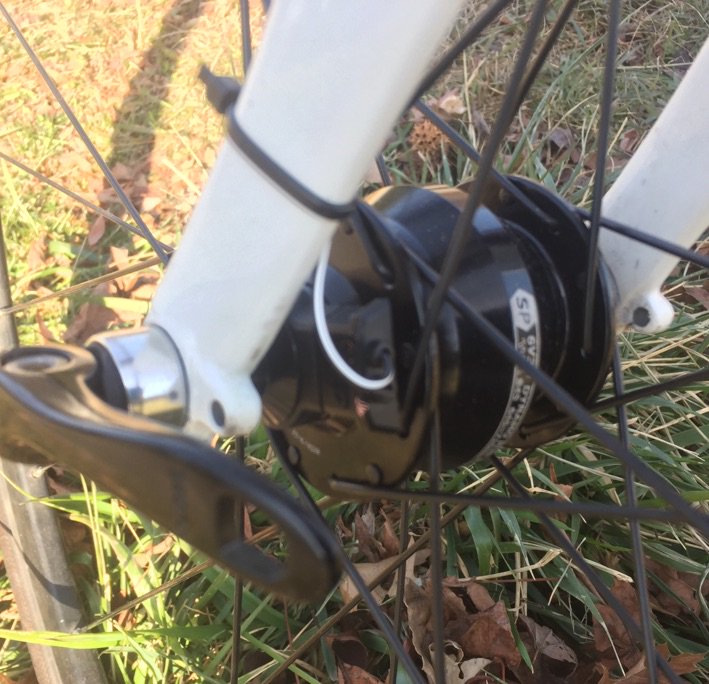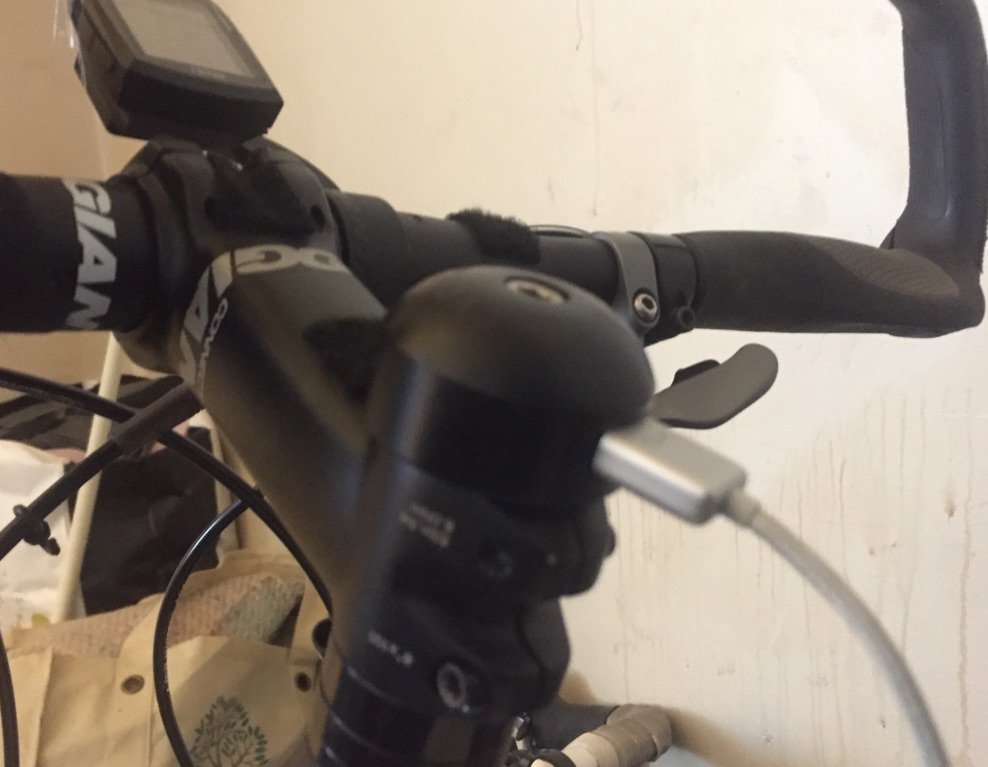 A LOT of people complain about using dynamo/USB configurations to directly charge their phone and I really don't get why they do that in the first place. I found that the threshold for my iPhone to start indicating it is charging is around 3.7 MPH. Now, obviously, if you are going to be starting and stopping, it is like plugging your phone in each time, and that's going to be an annoyance if you are running a navigation app etc.. It makes a lot more sense, at least to me, to use a USB battery pack as a buffer between the charger and the phone, or simply use the USB charger to charge the battery, and hook up your phone (Garmin, sex toys, whatever) when you want to charge them. With a short USB cord and a small top-tube bag (like one of those bento box things), or a handlebar bag, you can keep the battery in the bag, and then throw into the bag or connect whatever it is that needs charging.
I was surprised there is not a "go to" configuration for the general concept of "how can I charge USB devices with a dynamo hub", but on the other hand there is also a range of price points and aesthetics in terms of what kind of things do you want to have zip tied to your frame.
Now, if anyone can help me get that Frank Zappa tune out of my head, I will be eternally grateful.
0 replies, 2218 views