Fri Jan 20, 2012, 07:44 PM
kimmerspixelated (8,423 posts)
Have any of ya'll ever used an online vision board?
If so, where did you find it? Was it free?
3 replies, 1598 views
Replies to this discussion thread
| | | | |
| --- | --- | --- | --- |
| 3 replies | Author | Time | Post |
| Have any of ya'll ever used an online vision board? (Original post) | kimmerspixelated | Jan 2012 | OP |
| | Celebration | Jan 2012 | #1 |
| | icymist | Jan 2012 | #2 |
| | Celebration | Jan 2012 | #3 |
---
Response to kimmerspixelated (Original post)
Fri Jan 20, 2012, 08:51 PM
Celebration (15,812 posts)
1. I posted instructions on YouTube
If you have Windows Vista or Windows 7
The way I have it configured is for Distance Treatments.
This is kind of an advanced vision board, LOL, more like a symbolic radionics device.
BTW, if you just want a board with things you envision, without the target, trend, etc. you can configure what you want with your Windows 7 or Vista, then hit PrintScreen and put it into Paint to save it as a picture file. In that case you won't need the photos below, just save your board. and bring it up whenever you want. But you could put a photo of yourself as the target in any case, if you like. The trend could either be a video or a photo. In other words, you don't necessarily have to do it exactly the way I showed. It is just an example, and the way I use it.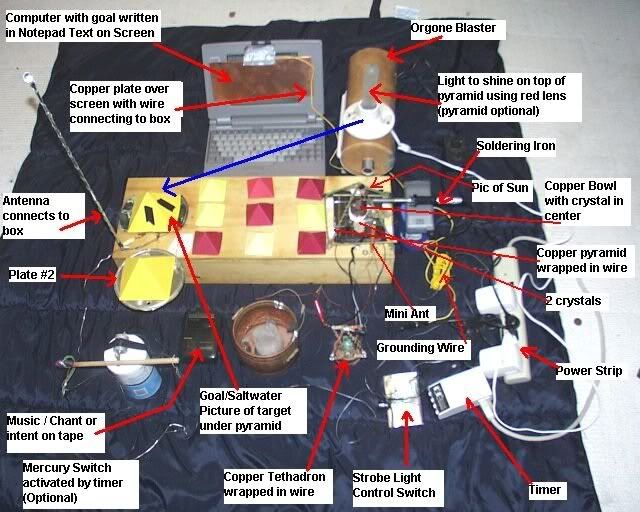 ---
Response to Celebration (Reply #1)
Sat Jan 21, 2012, 03:28 PM
icymist (14,756 posts)
2. So, does this thing actually work? What does it do again?
I'm a bit confussed because it seems so complicated.
---
Response to icymist (Reply #2)
Sat Jan 21, 2012, 03:54 PM
Celebration (15,812 posts)
3. I have to admit
If you want to use it in the way that I do, you have to really want to learn how! That might involve watching it a few times, or maybe emailing me if you had questions. I developed this method so that I would not have to necessarily make separate clearing slideshows for each person (target). The slideshows "work" on the person viewing them, but they also work if a person's photo and information are embedded into the slideshow. In that case, the person doesn't have to view them, they work by distance.
This is a way to use generic slideshows that I have on YouTube to work on a loved one by distance. An example might be a kid away from college, or a spouse in the hospital, a toddler with attention issues, etc. Rather than having the photo embedded in the slideshow, this works like a simple symbolic radionics device on the computer screen. I used to have a program that did this for me. The problem is, though, that it only opened pictures for the trend, and not the slideshows! Another problem is that you have to leave it in D drive for Vista or Windows 7.
In a sense though, what I describe is pretty easy. You just open different windows up on the screen (from your My Pictures), and place them accordingly. But, under the trend, you can put either a video or a photo. It it is a photo, though, you might have to figure out a beginning and an end to it, such as looking at it, applying music, etc.
It works the same way as a radionics device, but you don't have to douse for rates or anything like that. Basically, though, it changes muscle response testing results for various things, "clearing" people of whatever is in the trend.
But you could use this same method of opening different Windows on a screen to make a custom vision board. Just find pictures for the vision board, and use the pendulum or muscle response testing to see if what you come up with is of value. You can move the Pictures around and change their sizes. Then click Print Screen, and then copy into Paint, and save as a JPEG file. Then, whenever you want to see your Vision Board, or meditate on it, just bring it up. Or you could use it as the background for your Desktop! That would be pretty cool.
Okay, I just outed myself as a Geek here.
Seriously, I love this stuff, and it is much easier for me to use my computer screen than it is for me to go through all the visualizations I would otherwise need. It is just kind of automated. But, yes, if there was a program arranged like this that would allow me to pull up photos and slideshows without opening Windows and moving them around, I would probably spring for it.
But if you don't like fooling around with stuff like this, you can make a vision board like this. I used one like this for ages and ages and it worked fine. I still have it.