Sat Apr 21, 2018, 12:28 AM
Judi Lynn (147,053 posts)
Dutch industrial group VDL joins Atacama biggest eye on the sky project
April 20, 2018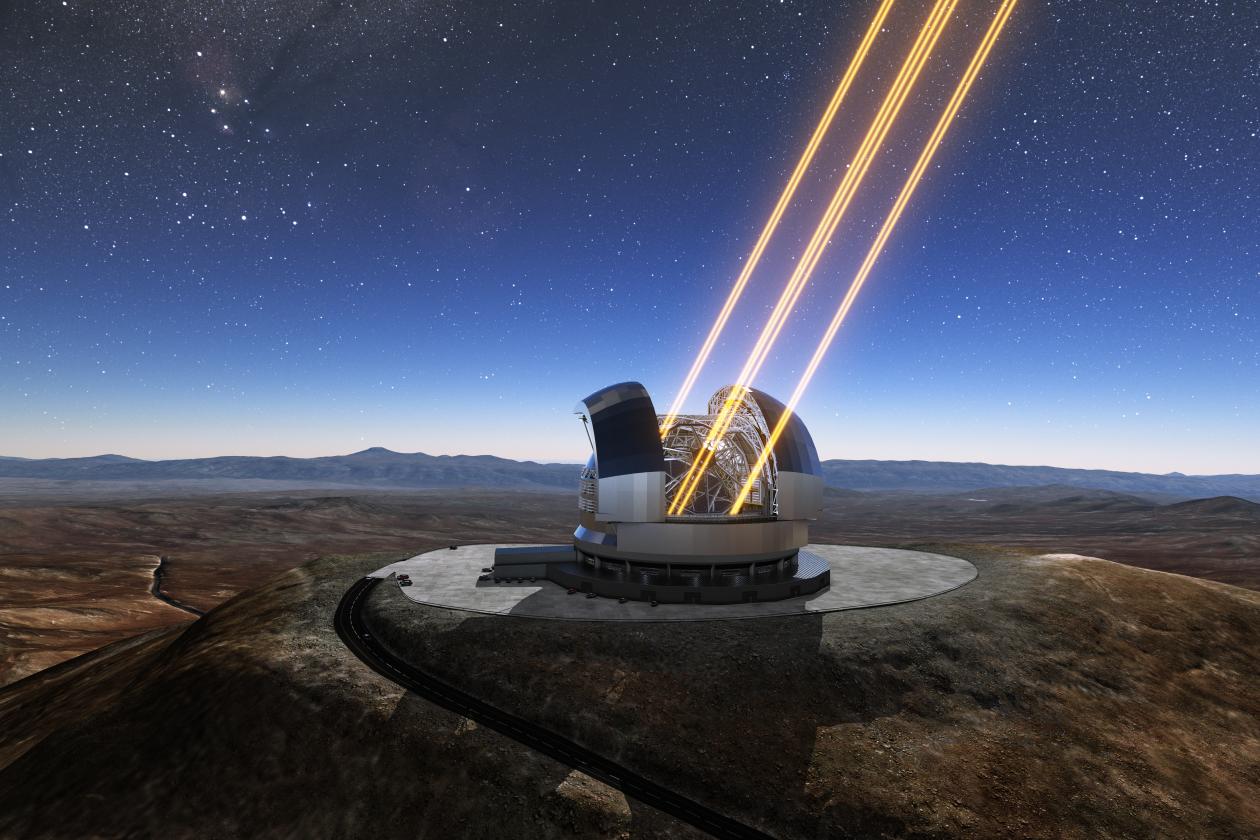 Artist's impression: ESO
VDL ETG Projects, part of the diversified industrial VDL Groep, has been awarded a contract to build the support structure for the main mirror of the Extremely Large Telescope (ELT) in northern Chile, the Eindhoven-based company said in a statement late Thursday.
The European Southern Observatory will build the world's largest telescope in the Atacama desert at an elevation of over three kilometres. The support structure consists of 798 individual support structures for mirror segments, which together form the telescope's main mirror which has a diameter of over 39 metres. The project will be completed in 2024.
The order is worth several tens of millions of euros, the company said. VDL comprises 94 individual companies and is owned by the Van der Leegte family.
ESO Director General Xavier Barcons and VDL Groep President and CEO Willem van der Leegte signed the contract for the order on Thursday at the headquarters of the ESO in Garching, near Munich. Van der Leegte said this marked the first time an astronomy-related contract of this size has gone to a Dutch party.
More:
https://www.dutchnews.nl/news/2018/04/dutch-industrial-group-vdl-joins-atacama-biggest-eye-on-the-sky-project/
~ ~ ~ ~ ~
Older article:
Biggest-Ever Telescope Approved for Construction
By Mike Wall, Space.com Senior Writer | December 4, 2014 03:00pm ET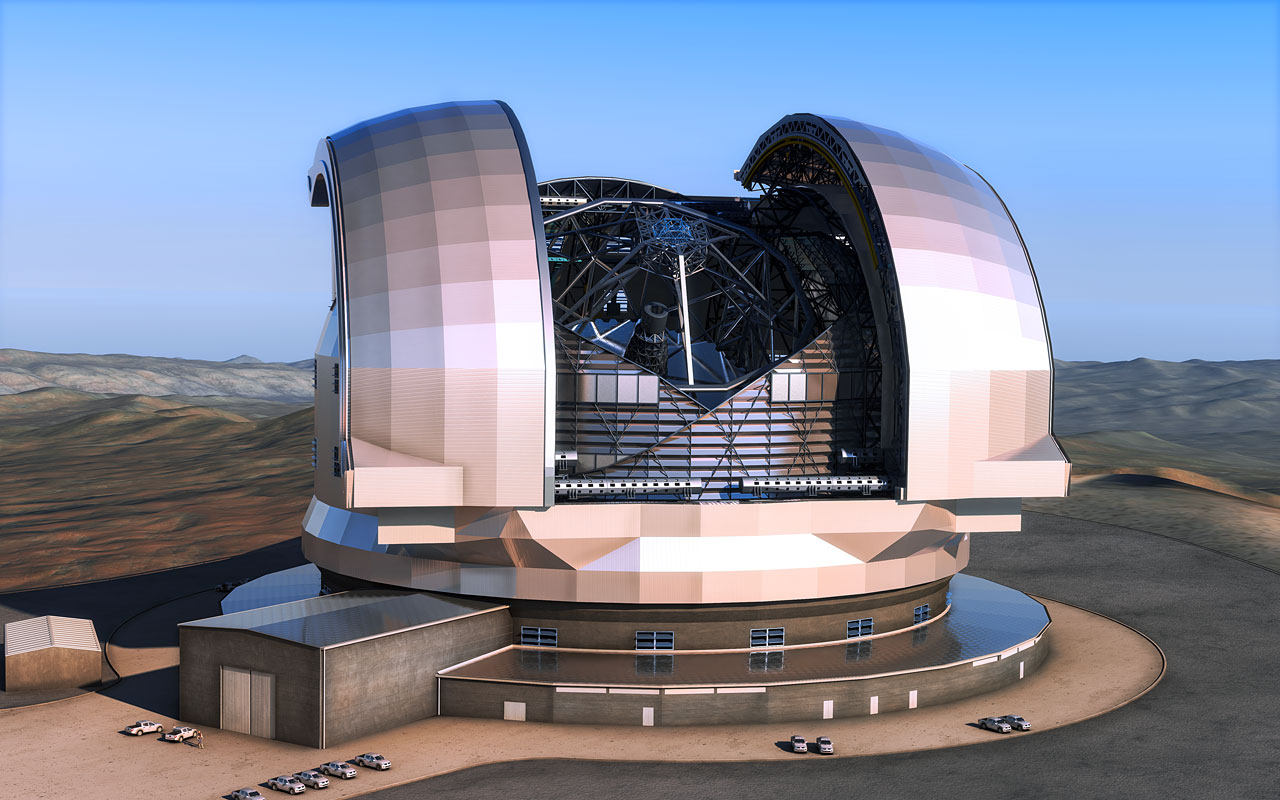 An artist's illustration depicts the European Extremely Large Telescope (E-ELT) in its enclosure. It eventually will be the world's largest "eye on the sky."
Credit: ESO/L. Calçada
The world's largest telescope has gotten its official construction go-ahead, keeping the enormous instrument on track to start observing the heavens in 2024.
The European Extremely Large Telescope (E-ELT), which will feature a light-collecting surface 128 feet (39 meters) wide, has been greenlit for construction atop Cerro Armazones in Chile's Atacama Desert, officials with the European Southern Observatory (ESO) announced Thursday (Dec. 4).
"The decision taken by Council [ESO's chief governing body] means that the telescope can now be built, and that major industrial construction work for the E-ELT is now funded and can proceed according to plan," Tim de Zeeuw, ESO's director general, said in a statement. "There is already a lot of progress in Chile on the summit of Armazones, and the next few years will be very exciting." [Photos: World's Largest Telescope Being Built in Chile]
More:
https://www.space.com/27930-european-extremely-large-telescope-construction-approved.html
Wonderful images of telescopes already in use in Chile's Atacama Desert:
https://images.search.yahoo.com/search/images;_ylt=AwrEwNf1vNpaftkAwomJzbkF;_ylu=X3oDMTBsZ29xY3ZzBHNlYwNzZWFyY2gEc2xrA2J1dHRvbg--;_ylc=X1MDOTYwNjI4NTcEX3IDMgRhY3RuA2NsawRiY2sDZWFlcjdmOWNnbDI5ZyUyNmIlM0Q0JTI2ZCUzRGZFVE9PSzFyWUgzS3VfNWJGaWk4THF3a19jX3JYc19ya1E2azM1dGQ0N2NwM1EtLSUyNnMlM0RkayUyNmklM0RTZ0R4MElPcUVYTE9lUUhDSGhvNQRjc3JjcHZpZANzYzRVSmpFd0xqSGxPMmQ2V1FxSk1BT1VNall3TUFBQUFBQXR5bFRfBGZyA3NmcARmcjIDc2EtZ3AEZ3ByaWQDWGRLb1hHQk1TeVNiOEx6MXlxZWF1QQRtdGVzdGlkA251bGwEbl9zdWdnAzAEb3JpZ2luA2ltYWdlcy5zZWFyY2gueWFob28uY29tBHBvcwMwBHBxc3RyAwRwcXN0cmwDBHFzdHJsAzI1BHF1ZXJ5AyBUZWxlc2NvcGVzIEF0YWNhbWEgQ2hpbGUEdF9zdG1wAzE1MjQyODUwMzMEdnRlc3RpZANudWxs?gprid=XdKoXGBMSySb8Lz1yqeauA&pvid=sc4UJjEwLjHlO2d6WQqJMAOUMjYwMAAAAAAtylT_&p=+Telescopes+Atacama+Chile&fr=sfp&fr2=sb-top-images.search.yahoo.com&ei=UTF-8&n=60&x=wrt
0 replies, 595 views