Wed Jan 2, 2019, 10:37 AM
reACTIONary (2,629 posts)
4 replies, 507 views
Replies to this discussion thread
| | | | |
| --- | --- | --- | --- |
| 4 replies | Author | Time | Post |
| New Horizons Ultima Thule First Look Discussion Today 2 PM ET (Original post) | reACTIONary | Jan 2019 | OP |
| | JayhawkSD | Jan 2019 | #1 |
| | reACTIONary | Jan 2019 | #2 |
| | muriel_volestrangler | Jan 2019 | #3 |
| | Eugene | Jan 2019 | #4 |
---
---
Response to JayhawkSD (Reply #1)
Wed Jan 2, 2019, 12:20 PM
reACTIONary (2,629 posts)
2. Sorry, fixed nt
---
Response to reACTIONary (Original post)
Wed Jan 2, 2019, 04:30 PM
muriel_volestrangler (91,574 posts)
3. A 'snowman': the body is Ultima, the head Thule
---
Response to reACTIONary (Original post)
Wed Jan 2, 2019, 04:32 PM
Eugene (44,904 posts)
4. Nasa's New Horizons: 'Snowman' shape of distant Ultima Thule revealed
Source:
BBC
Nasa's New Horizons: 'Snowman' shape of distant Ultima Thule revealed
By Jonathan Amos
BBC Science Correspondent
2 January 2019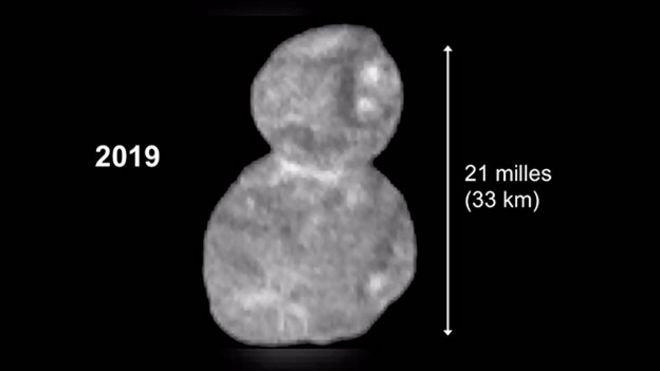 The "snowman" completes a full rotation every 15 hours
A new picture returned from Nasa's New Horizons spacecraft shows the little world to be two objects joined together - to give a look like a "snowman".
The US probe's images acquired as it approached Ultima hinted at the possibility of a double body, but the first detailed picture from Tuesday's close flyby confirms it.
New Horizons encountered Ultima 6.5 billion km from Earth.
The event set a record for the most distant ever exploration of a Solar System object. The previous mark was also set by New Horizons when it flew past the dwarf planet Pluto in 2015.
But Ultima is 1.5 billion km further out.
The mission team has decided to call the larger lobe "Ultima" and the smaller lobe "Thule". The volume ratio is three to one.
-snip-
Read more:
https://www.bbc.com/news/science-environment-46742298