Tue Apr 2, 2019, 01:00 PM
Judi Lynn (143,230 posts)
'Groundbreaking Result' Coming from Black-Hole Hunting Event Horizon Telescope Next Week
By Mike Wall 6 hours ago Science & Astronomy
The Event Horizon Telescope team has a big announcement on April 10.
A computer-simulation view of a supermassive black hole at the heart of a galaxy. The edge of the black central region represents the event horizon, beyond which no light can escape.(Image: © NASA, ESA, and D. Coe, J. Anderson, and R. van der Marel (STScI))
We may be about to get an epic and unprecedented look at a black hole.
The Event Horizon Telescope (EHT) project, an international effort that aims to capture the first-ever image of a black hole, will announce a "groundbreaking result" at a news conference next week, team members said Monday (April 1).
The briefing, which will be hosted jointly by the EHT project and the U.S. National Science Foundation (NSF), takes place next Wednesday (April 10) at 9 a.m. EDT (1300 GMT) at The National Press Club in Washington, D.C. (NSF helps fund the EHT.) And you can watch the big news unfold: The event will be streamed live.
. . .
Related press conferences will also occur simultaneously in Brussels; Santiago, Chile; Shanghai; Taipei, Taiwan; and Tokyo, according to the NSF advisory. The speakers at these various events include some heavy hitters, such as Carlos Moedas, the European commissioner for research, science and innovation; James Liao, president of the Academia Sinica; European Southern Observatory Director General Xavier Barcons; and Atacama Large Millimeter/submillimeter Array Director Sean Dougherty.
More:
https://www.space.com/event-horizon-telescope-black-hole-announcement-coming-soon.html?utm_source=notification
2 replies, 859 views
Replies to this discussion thread
| | | | |
| --- | --- | --- | --- |
| 2 replies | Author | Time | Post |
| 'Groundbreaking Result' Coming from Black-Hole Hunting Event Horizon Telescope Next Week (Original post) | Judi Lynn | Apr 2019 | OP |
| | cstanleytech | Apr 2019 | #1 |
| | Judi Lynn | Apr 2019 | #2 |
---
Response to Judi Lynn (Original post)
Tue Apr 2, 2019, 01:36 PM
cstanleytech (21,494 posts)
1. Would be nice if the announcement was the discovery of what appears to be an interstellar
---
Response to Judi Lynn (Original post)
Tue Apr 2, 2019, 08:30 PM
Judi Lynn (143,230 posts)
2. 'Something no human has seen before': The first-ever photograph of a black hole will likely be unvei
'Something no human has seen before': The first-ever photograph of a black hole will likely be unveiled next week
Doyle Rice, USA TODAY Published 5:23 p.m. ET April 2, 2019 | Updated 5:30 p.m. ET April 2, 2019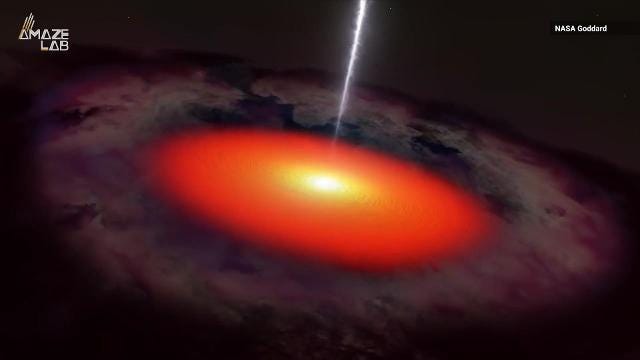 The ALMA telescope provided the highest resolution images of Sagittarius A* yet, giving us a peak into where the black hole is aiming its emissions. Buzz60
They've captured our imaginations for decades, but we've never actually photographed a black hole before – until now.
Next Wednesday, at several press briefings around the world, scientists will apparently unveil humanity's first-ever photo of a black hole, the European Space Agency said in a statement. Specifically, the photo will be of "Sagittarius A," the supermassive black hole that's at the center of our Milky Way galaxy.
But aren't black holes, well, black, and thus invisible, so none of our telescopes can "see" them? Yes – therefore the image we're likely to see will be of the "event horizon," the edge of the black hole where light can't escape.
Even that will be challenging, however, as the black hole at the center of our galaxy is "shrouded in a thick cloud of dust and gas," according to Science Alert. Even more confounding is that spacetime around a black hole is "weird."
More:
https://www.usatoday.com/story/news/nation/2019/04/02/black-holes-first-ever-photo-should-unveiled-next-week/3343250002/