Fri Sep 27, 2019, 03:11 PM
Judi Lynn (135,822 posts)
"Glass Pearls" in Clamshells Point to Ancient Meteor Impact
Research suggests that the spherical structures, smaller than grains of sand, may be microtektites, but additional investigations are needed to verify their identity.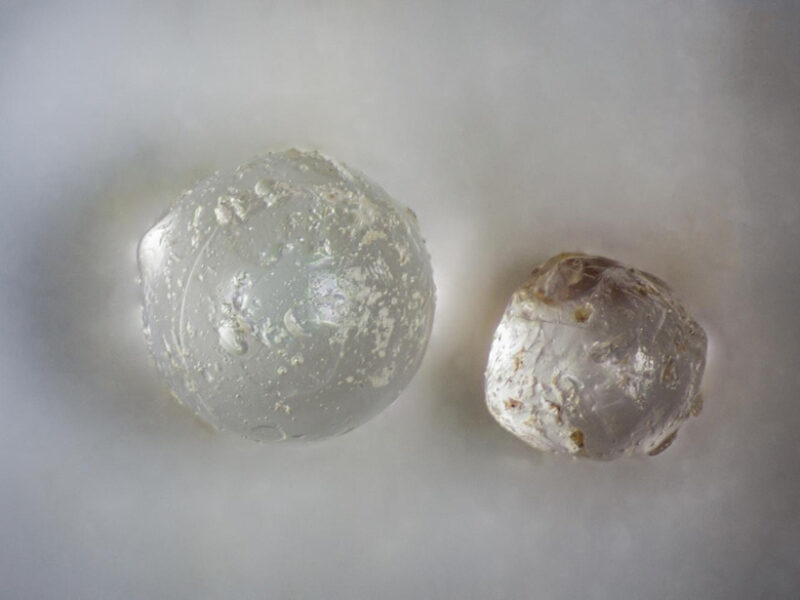 These microspherules may hint at a previously unknown meteorite impact. Credit: Kristen Grace/Florida Museum of Natural History
By Rachel Crowell 24 September 2019
Mike Meyer recently returned to investigating 83 mysterious objects from his past.
Collected while sifting through fossilized clams in a Florida quarry in 2006, the identities of these microscopic objects were unknown for more than a decade. Many of the glassy spheres, about 200 micrometers in diameter, are translucent, and others have frosty surfaces. Some have bumps or cracks on their surfaces, likely caused by the abrasive action of sand grains, said Meyer, an Earth systems scientist at Harrisburg University in Pennsylvania.
More than a decade later, Meyer and coauthors of a study published in Meteoritics and Planetary Science analyzed the physical characteristics and elemental compositions of the mysterious microspherules. The team concluded that the curious objects "are likely microtektites or a closely related type of material."
Microtektites are tiny bodies of natural glass formed from terrestrial debris ejected during meteorite impacts.
Meyer estimates the objects to be 1 to 2 million years old on the basis of the current consensus on the age of the shell beds where they were found. However, the beads could have been transported from elsewhere before they were enclosed in the shells, introducing the possibility that they are older.
More:
https://eos.org/articles/glass-pearls-in-clam-shells-point-to-ancient-meteor-impact
3 replies, 659 views
Replies to this discussion thread
| | | | |
| --- | --- | --- | --- |
| 3 replies | Author | Time | Post |
| "Glass Pearls" in Clamshells Point to Ancient Meteor Impact (Original post) | Judi Lynn | Sep 27 | OP |
| | tblue37 | Sep 27 | #1 |
| | tblue37 | Sep 27 | #2 |
| | RestoreAmerica2020 | Sep 27 | #3 |
---
Response to Judi Lynn (Original post)
Fri Sep 27, 2019, 03:13 PM
tblue37 (35,449 posts)
1. K&R & thanks. nt
---
Response to Judi Lynn (Original post)
Fri Sep 27, 2019, 03:25 PM
tblue37 (35,449 posts)
2. Another cool pic of them:
---
Response to Judi Lynn (Original post)
Fri Sep 27, 2019, 03:47 PM
RestoreAmerica2020 (1,398 posts)
3. Fascinating!. Thanks for post and link.