Mon Oct 7, 2019, 02:02 PM
Judi Lynn (137,168 posts)
Cosmic Record Holders: The 12 Biggest Objects in the Universe
By Adam Mann a day ago
The universe is a big place, and it's full of big things. Planets, stars, galaxies and clusters of galaxies extend upward on ever-more-massive scales. Here we marvel at some of the record holders in different cosmic categories, perhaps feeling humbled by the universe's ability to produce entities of incredible size and grandeur.
Largest exoplanet: GQ Lupi b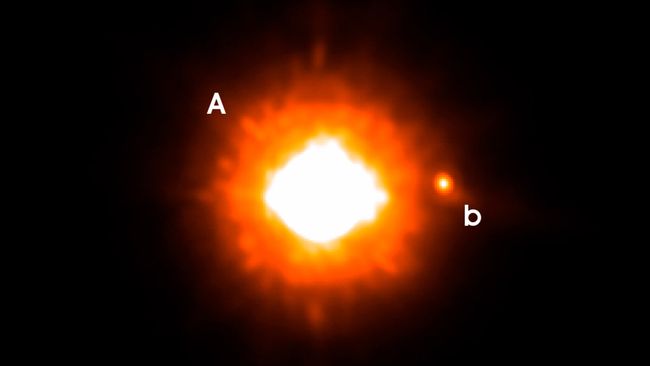 (Image credit: ESO)
Astronomers weren't sure what to make of the mysterious GQ Lupi b when it was first discovered
in 2005. Orbiting a young star around two and a half times farther than Pluto is from the sun, the
companion object seemed to be either a planet or a brown dwarf, which is actually a type of small
star. Subsequent observations have yet to clear up the confusion, but the best estimates suggest
GQ Lupi b has a radius around 3.5 times that of Jupiter, meaning that if it is an exoplanet, it's the
largest ever found.
Largest star: UY Scuti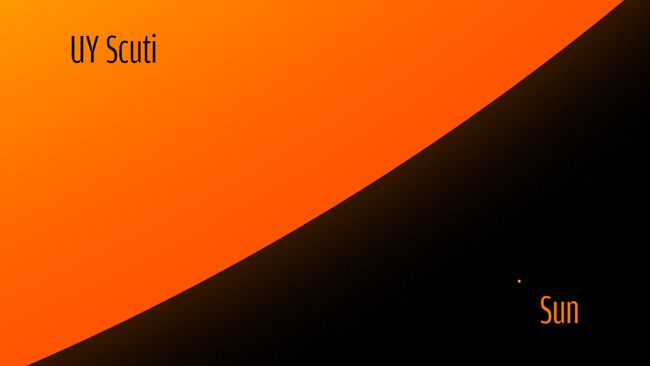 (Image credit: Philip Park/CC by SA 3.0)
UY Scuti is a hypergiant star with a radius that's around 1,700 times larger than the sun, making
it the biggest known star in the universe. If someone were to place UY Scuti at the center of the
solar system, its edge would extend just beyond the orbit of Jupiter. Gas and dust streaming from
the star would extend even farther out, beyond the orbit of Pluto, or around 400 times the
Earth-sun distance.
Largest Nebula: The Tarantula Nebula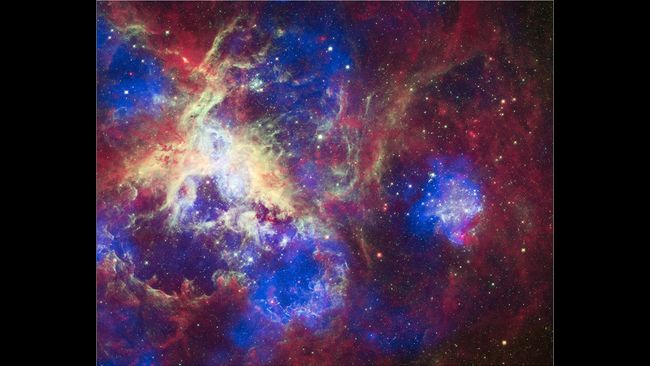 (Image credit: X-ray: NASA/CXC/PSU/L.Townsley et al.; Optical: NASA/STScI;
Infrared: NASA/JPL/PSU/L.Townsley et al.)
Both the largest known nebula and most active star-forming region in our local galactic
neighborhood, the Tarantula Nebula stretches for more than 1,800 light-years at its longest
span. Also known as 30 Doradus, the object is located 170,000 light-years from Earth in the Large
Magellanic Cloud, a small satellite galaxy that orbits our Milky Way. Rather than a killer arachnid,
this Tarantula is a stellar nursery — within its beautiful folds of gas and dust young stars are being
born.
More:
https://www.space.com/largest-objects-in-universe.html
6 replies, 1843 views
Replies to this discussion thread
| | | | |
| --- | --- | --- | --- |
| 6 replies | Author | Time | Post |
| Cosmic Record Holders: The 12 Biggest Objects in the Universe (Original post) | Judi Lynn | Oct 2019 | OP |
| | qazplm135 | Oct 2019 | #1 |
| | SaulofTucson | Oct 2019 | #2 |
| | keithbvadu2 | Oct 2019 | #6 |
| | JohnnyRingo | Oct 2019 | #3 |
| | justhanginon | Oct 2019 | #4 |
| | burrowowl | Oct 2019 | #5 |
---
---
Response to qazplm135 (Reply #1)
Tue Oct 8, 2019, 09:13 PM
SaulofTucson (34 posts)
2. Good one.
And his waist is expanding even faster than the universe.

Unrelated, but speaking of expansion (from Annie Hall):

[link:|

---
Response to SaulofTucson (Reply #2)
Thu Oct 10, 2019, 08:59 AM
keithbvadu2 (12,733 posts)
6. I hear that the sun will go super-nova in 4 or 5 billion years and burn the earth to a cinder.
I hear that the sun will go super-nova in 4 or 5 billion years and burn the earth to a cinder.

I'm a patient kinda guy.

I can wait.
---
Response to Judi Lynn (Original post)
Tue Oct 8, 2019, 11:56 PM
JohnnyRingo (14,104 posts)
3. Awesome post.
I rather enjoyed that.

Thanx!
---
Response to Judi Lynn (Original post)
Wed Oct 9, 2019, 06:23 AM
justhanginon (2,566 posts)
4. Very interesting. The only problem is that in trying to comprehend
some of those sizes, weights and distances I think my mind is beginning to melt. I have never been able to understand how cosmologists and other who study space are able to deal with the enormity of the universe. Waaaaaaay beyond my meager thought processes.
---
Response to Judi Lynn (Original post)
Wed Oct 9, 2019, 05:07 PM
burrowowl (12,829 posts)
5. Thanks for link