Fri Oct 11, 2019, 06:25 PM
Judi Lynn (137,160 posts)
How the Universe Stopped Making Sense
By Rafi Letzter - Staff Writer 7 hours ago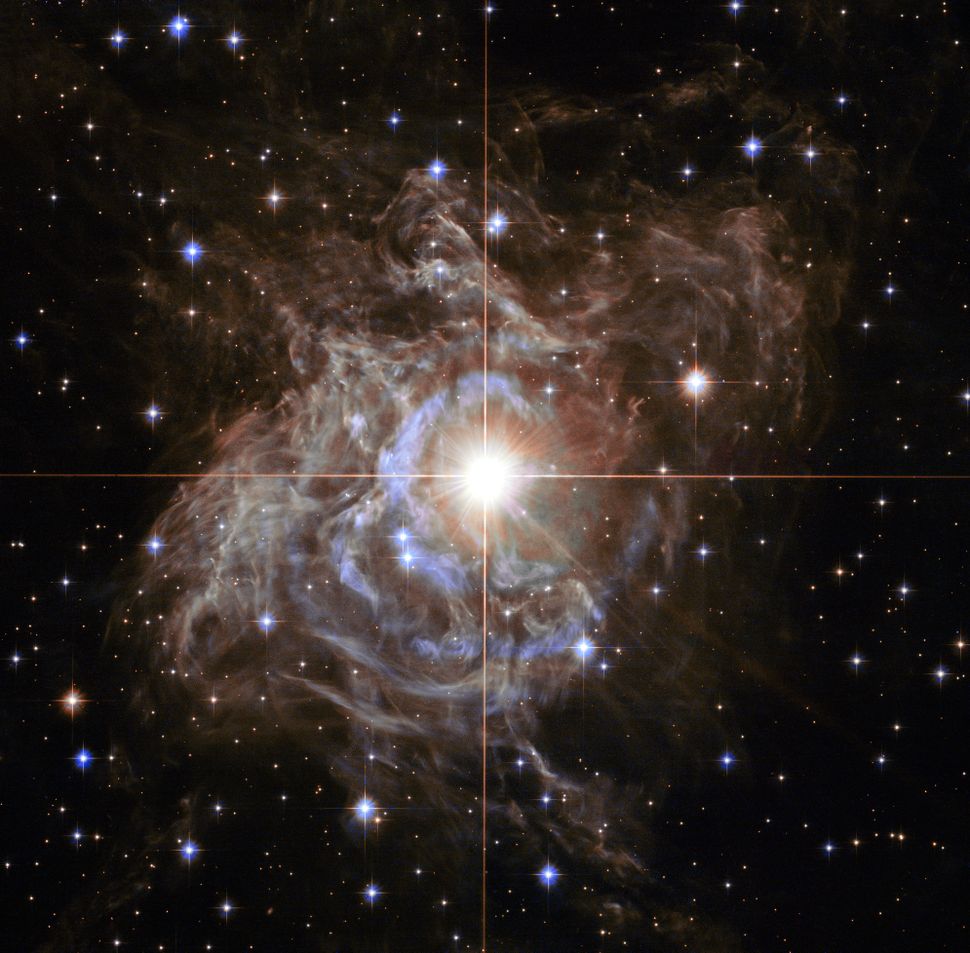 A Hubble Space Telescope image shows RS Puppis, one of the brightest Cepheids visible in our galaxy. Astrophysicists use stars like this to calculate the expansion rate of the universe.(Image: © Hubble Space Telescope/NASA)
We're getting something wrong about the universe.
It might be something small: a measurement issue that makes certain stars looks closer or farther away than they are, something astrophysicists could fix with a few tweaks to how they measure distances across space. It might be something big: an error — or series of errors — in cosmology, or our understanding of the universe's origin and evolution. If that's the case, our entire history of space and time may be messed up. But whatever the issue is, it's making key observations of the universe disagree with each other: Measured one way, the universe appears to be expanding at a certain rate; measured another way, the universe appears to be expanding at a different rate. And, as a new paper shows, those discrepancies have gotten larger in recent years, even as the measurements have gotten more precise.
"We think that if our understanding of cosmology is correct, then all of these different measurements should be giving us the same answer," said Katie Mack, a theoretical cosmologist at North Carolina State University (NCSU) and co-author of the new paper.
The two most famous measurements work very differently from one another. The first relies on the Cosmic Microwave Background (CMB): the microwave radiation leftover from the first moments after the Big Bang. Cosmologists have built theoretical models of the entire history of the universe on a CMB foundation — models they're very confident in, and that would require an all-new physics to break. And taken together, Mack said, they produce a reasonably precise number for the Hubble constant, or H0, which governs how fast the universe is currently expanding.
More:
https://www.livescience.com/hubble-constant-universe-expansion-not-make-sense.html?utm_source=notification
3 replies, 491 views
Replies to this discussion thread
| | | | |
| --- | --- | --- | --- |
| 3 replies | Author | Time | Post |
| How the Universe Stopped Making Sense (Original post) | Judi Lynn | Oct 2019 | OP |
| | ThoughtCriminal | Oct 2019 | #1 |
| | docgee | Oct 2019 | #2 |
| | airplaneman | Oct 2019 | #3 |
---
Response to Judi Lynn (Original post)
Fri Oct 11, 2019, 06:39 PM
ThoughtCriminal (12,369 posts)
1. It may turn out that the Hubble "Constant"
---
Response to Judi Lynn (Original post)
Fri Oct 11, 2019, 06:45 PM
docgee (596 posts)
2. The speed of light is not a constant.
It is faster in between galaxies where there is less mass.
---
Response to Judi Lynn (Original post)
Fri Oct 11, 2019, 09:07 PM
airplaneman (923 posts)
3. An excellent video describing this discrepancy in the video link below