Sat May 23, 2020, 01:55 AM
Judi Lynn (139,562 posts)
Lightning Research Flashes Forward
A greater understanding of lightning mechanisms is spurring the development of more accurate weather forecasting, increased public health precautions, and a more sophisticated understanding of lightning itself.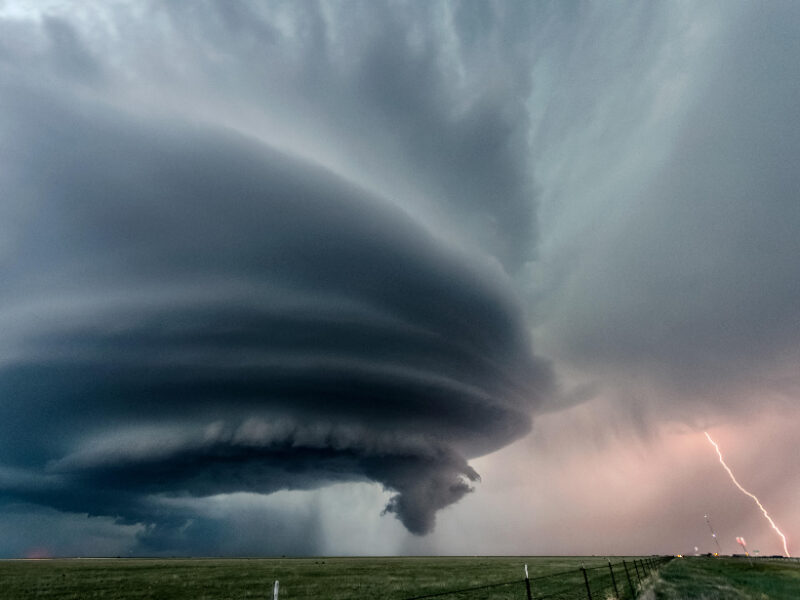 Lightning flashes during a tornadic storm in Oklahoma. Credit: Media Drum World/Alamy Stock Photo
By Heather Goss 24 April 2020
Ashley Ravenscraft had a decision to make. Over the past several hours as a storm rolled through northern Alabama on 11 January, her team at the National Weather Service (NWS) office in Huntsville had already issued two tornado warnings.
Ravenscraft, a meteorologist, had issued the warnings using the Three Ingredients Method, which uses radar inputs to estimate the likelihood a linear storm will shift into a vortex. Then the azimuth motor went down on the closest radar to the storm—a technician had been sent to repair it, but it would be a least an hour before he arrived and would be able to get it back online. The remaining radar stations were far enough from the storm that they were capturing only data above several thousand meters in altitude—too high to make accurate judgments on storm rotation close to the ground.
But Ravenscraft was getting consistent data about one piece of the storm that would become key: lightning.
The NWS had brought a new application online in 2018—Ravenscraft was using it for only the second time. Her color-coded screen was showing 1-minute flash extent density data, or the rate at which lightning was flashing in the area. It was pulling in real-time data from the Geostationary Lightning Mapper (GLM), a near-infrared instrument aboard the GOES-R satellite. As the frequency of flashes increases, the colors on the map move from cool to warm.
A month earlier, on 16 December 2019, Ravenscraft had been on radar for her first big storm and had GLM data up on her screen. As the storm line approached the Huntsville region through northern Mississippi, "I was watching the nature of the lightning jumps [the flash extent density data]—how high it got, how quick it got," she said. "I knew that they were putting out tornado warnings, and I knew how the radar looked, so I thought, 'If we start to see these lightning jumps, and we see these updrafts grow, especially combined with the surge in the line we can see on radar, then there's a good chance we're going to end up with a tornado.'"
More:
https://eos.org/features/lightning-research-flashes-forward
2 replies, 352 views
Replies to this discussion thread
| | | | |
| --- | --- | --- | --- |
| 2 replies | Author | Time | Post |
| Lightning Research Flashes Forward (Original post) | Judi Lynn | Saturday | OP |
| | lastlib | Saturday | #1 |
| | AllaN01Bear | Saturday | #2 |
---
Response to Judi Lynn (Original post)
Sat May 23, 2020, 04:38 PM
lastlib (14,763 posts)
1. My understanding of it (from experience) is basically limited to the fact....
it's an electrifying bitch if it hits you or close enough to knock you into a ditch!
---
Response to Judi Lynn (Original post)
Sat May 23, 2020, 04:51 PM
AllaN01Bear (2,929 posts)
2. timelapse video

in the meantime ive lost one of my near real time lightning tools vialsala lightning portal. none of my browsers say it isnt there anymore.