Wed Dec 18, 2013, 02:19 AM
grantcart (50,838 posts)
Find something to be happy about today (Wednesday December 18th, 2013)
.
.
.
.
.
.
.
.
.
.
.
.
.
.
.
.
.
.
.
.
.
.
.
.
.
.
.
.
.
.
.
.
.

Conservationists uncover 'mother lode' of gorillas in Africa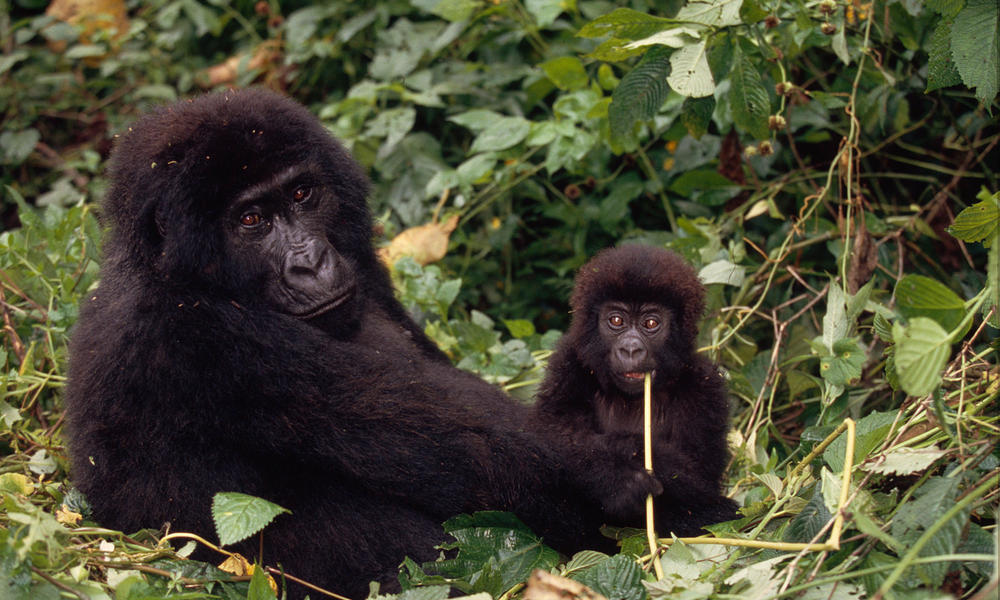 ?


http://www.csmonitor.com/Environment/Bright-Green/2008/0806/conservationists-uncover-mother-lode-of-gorillas-in-africa/

Conservationists uncover 'mother lode' of gorillas in Africa
A census in the north of the Republic of the Congo has discovered 125,000 previously uncounted western lowland gorillas, more than doubling the previous estimated worldwide population of the great ape subspecies.
The census, conducted by the Bronx Zoo-based Wildlife Conservation Society, covered an area of 18,000 square miles. The findings were announced at a press conference at the International Primatological Society Congress in Edinburgh, Scotland.
Previous estimates carried out in the 1980s placed the entire population of western lowland gorillas, whose habitat spans seven Central African Nations, at fewer than 100,000. Scientists believe that this number had fallen by at least half because of poaching and disease, particularly the Ebola virus. The subspecies is classified as "critically endangered" by the International Union for Conservation of Nature.
The WCS says a number of factors have contributed to the gorillas' success in this region, including the management of the country's protected areas, the remoteness of the locations where the apes were found, and an abundance of gorilla food.
"These figures show that northern Republic of Congo contains the mother lode of gorillas," said WCS head Steven E. Sanderson in a press release. "It also shows that conservation in the Republic of Congo is working. This discovery should be a rallying cry for the world that we can protect other vulnerable and endangered species, whether they be gorillas in Africa, tigers in India, or lemurs in Madagascar."
Good News for Mountain Gorillas

New census shows increase in population
http://worldwildlife.org/stories/good-news-for-mountain-gorillas
A population increase for mountain gorillas is proof that the intense and innovative efforts of the conservation community are bringing positive change. A recent census by the Uganda Wildlife Authority identified 400 mountain gorillas in Bwindi National Park bringing the overall population estimate to 880, an increase from the 786 estimated in 2010.
This exciting news brings hope for the future of mountain gorillas as these critically endangered animals live only in two places on Earth—Bwindi and the Virunga Massif area, which spans across parts of Democratic Republic of the Congo, Uganda and Rwanda. According to the census, both habitat locations demonstrated positive trends in population growth over the last decade.
"Although they face many threats—habitat loss, disease, and snare entanglement, among others—this subspecies of the eastern gorilla can have a future on this planet," says Matt Lewis, WWF's African species expert. "And by protecting mountain gorillas, we ensure the survival of vital gorilla habitat and the other species that live there too."
1 replies, 888 views
Replies to this discussion thread
| | | | |
| --- | --- | --- | --- |
| 1 replies | Author | Time | Post |
| Find something to be happy about today (Wednesday December 18th, 2013) (Original post) | grantcart | Dec 2013 | OP |
| | Suich | Dec 2013 | #1 |
---
Response to grantcart (Original post)
Wed Dec 18, 2013, 02:40 AM
Suich (10,642 posts)
1. Wow! Great news!
Cute pic, too!