Page: 1
SunsetDreams
SunsetDreams's Journal
Profile Information
Gender: Female
Current location: Oklahoma
Member since: Sun Mar 9, 2008, 12:02 PM
Number of posts: 8,571

About Me
I live in deep red country, and like to see myself as a bright shining blue star in a sky full of red hues. It\'s not easy living in an area surrounded by Republicans, but I truly believe in my role of changing a heart and mind one person at a time. DU for me has became a safe haven, where I can come in gather knowledge and fellowship with Democrats, and be refueled to go out and fight yet another day.
Journal Archives
Directive apply only when (1) an individual is arrested or otherwise taken into custody by the Federal Bureau of
Investigation (FBI) or another Federal law enforcement agency on or after the date of this Directive; and (2) officials of the agency detaining the individual have probable cause to believe that the individual is a "Covered Person" under section 1022 of the NDAA.

B. Covered Persons. For purposes of this Directive, the phrase "Covered Person" applies only to a person who is not a citizen of the United States and:

1. whose detention is authorized under the 2001 AUMF, as informed by the laws of war, and affirmed in section 1021 of the NDAA; and
2. (a) who is a member of, or part of, al-Qa'ida or an associated force that acts in coordination with or pursuant to the direction of al-Qa'ida; and (b) who participated in the course of planning or carrying out an attack or attempted attack against the United States or its coalition partners.

...

Any determination that there is not clear and convincing evidence that an individual is a Covered Person shall be without prejudice to the question of whether the individual may be subject to detention under the 2001 AUMF, as informed by the laws of war, and affirmed by section 1021 of the NDAA. Nothing in this Directive is intended to affect or alter the jurisdiction of Federal courts to determine the legality of detention or the substantive or procedural standards that apply to such determinations.
http://i2.cdn.turner.com/cnn/2012/images/02/28/white.house.document.03.pdf
From the White House Website:
Here
NDAA FACT SHEET: PROCEDURES IMPLEMENTING SECTION 1022 OF THE NATIONAL DEFENSE AUTHORIZATION ACT FOR FISCAL YEAR 2012
Barack Obama Waives Rule Allowing Indefinite Military Detention Of Americans
WASHINGTON -- The White House released rules Tuesday evening waiving the most controversial piece of the new military detention law, and exempting U.S. citizens, as well as other broad categories of suspected terrorists.

Indefinite military detention of Americans and others was granted in the defense authorization bill President Barack Obama signed just before Christmas, sparking a storm of anger from civil libertarians on the left and right.

The new rules -- which deal with Section 1022 of the law -- are aimed at soothing many of their gravest concerns, an administration official said. Those concerns are led by the possibility that a law that grants the president authority to jail Americans without trial in Guantanamo Bay based on secret evidence could easily be abused.

"It is important to recognize that the scope of the new law is limited," says a fact sheet released by the White House, focusing on that worry. "Section 1022 does not apply to U.S. citizens, and the President has decided to waive its application to lawful permanent residents arrested in the United States."
http://www.huffingtonpost.com/2012/02/28/indefinite-military-deten_n_1308129.html?ref=politics
Will Congress Finally Start to Clean Up the Mess It Made With the NDAA?

On Wednesday at 10:00 a.m. EST, the Senate Judiciary Committee will hold the first hearing ever on the indefinite military detention provisions in the 2012 National Defense Authorization Act (NDAA), which Congress passed in December. This hearing will be Congress' first opportunity to own up to its mistakes and start to fix them. But the only way the NDAA will be fixed is if senators and House members hear from you and your family and friends that indefinite military detention authority is wrong, dangerous, and needs to be repealed.

...

Wednesday's hearing is a start to the NDAA clean-up, and will be chaired by one of the biggest heroes in the fight against the NDAA—Sen. Dianne Feinstein of California. Sen. Feinstein is holding the Senate Judiciary Committee hearing in public, in contrast to the Senate Armed Services Committee, which wrote the NDAA last year in secret sessions without even a single hearing.

...

In the months ahead, we expect to see more congressional hearings on the NDAA detention provisions (we especially hope that the House Republican leadership will follow through on its promise to have hearings very soon in the House Judiciary and Armed Services Committees). By mid-May, the House and Senate Armed Services Committees will start writing the NDAA for this year (yes, there is an NDAA every year) and members of those committees will have chances to fix last year's NDAA. But like last year, the Senate Armed Services Committee may very well shut its doors and come up with its new NDAA in secret. Regardless, by late May, the full House will vote on the NDAA for next year and the full Senate will vote on its version this summer. In other words, if Congress doesn't fix the 2012 NDAA soon, it can use the 2013 NDAA to clean up its mess.
http://www.aclu.org/blog/national-security/will-congress-finally-start-clean-mess-it-made-ndaa
Campaign Slogan
Campaign Song
*******************************************************************************
*******************************************************************************
*******************************************************************************
*******************************************************************************
*******************************************************************************
*******************************************************************************
*******************************************************************************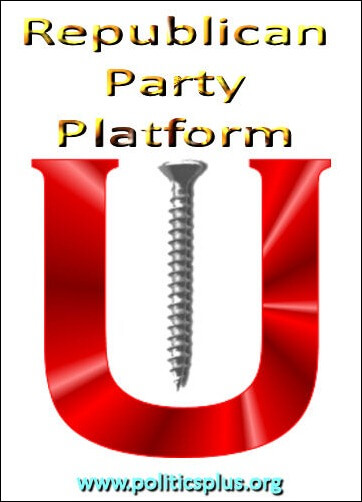 *******************************************************************************
SOLUTION?
The Board of Governors of the United States Postal Service is an eleven-member board comparable to a board of directors of a private corporation, except in service of the American postal system. Nine members are appointed by the President of the United States, subject to confirmation by the Senate. The nine presidentially appointed Governors choose the Postmaster General, who also serves as a member of the Board. These 10, in turn, choose a Deputy Postmaster General, who becomes the 11th member of the Board. The Postmaster General and Deputy Postmaster General serve at the pleasure of the Governors.

Each Governor is appointed to a nine-year term or to the remainder of an unexpired term created by the death or resignation of a sitting Governor. Terms of the Governors are staggered to expire each year on December 8. A Governor whose term has expired may continue to sit on the Board for up to one year until a successor has been appointed. No more than five of the nine Governors may be of the same political party. On December 20, 2006, President George W. Bush signed the Postal Accountability and Enhancement Act, P.L. 109-435, which changed the terms of subsequently appointed Governors from nine to seven years.

http://en.wikipedia.org/wiki/Board_of_Governors_of_the_United_States_Postal_Service
In 1970, when the Board was established by the Postal Reorganization Act, the governors of the Postal Service were appointed for terms of nine years. The first nine appointments were for staggered terms of one to nine years. Subsequent appointments were made for the full nine years. On December 20, 2006, President George W. Bush signed the Postal Accountability and Enhancement Act, P.L. 109-435, which changed the terms of subsequently appointed governors from nine to seven years. The Act also added some professional qualifications for the governors. The governors are chosen to represent the public interest generally and cannot be representatives of special interests. Not more than five of the nine may belong to the same political party. They shall be chosen solely on the basis of their experience in the field of public service, law or accounting or on their demonstrated ability in managing organizations or corporations (in either the public or private sector) of substantial size, except that at least four of the governors shall be chosen solely on the basis of their demonstrated ability in managing organizations or corporations (in either the public or private sector) that employ at least 50,000 employees.

Appointments are made when vacancies occur or for the remainder of unexpired terms. Each governor's term expires on December 8 of a given year. Governors may continue to serve following expiration of their term or until a successor is appointed but not for more than one year. No person may serve more than two terms as a governor.

The Board directs the exercise of the powers of the Postal Service, directs and controls its expenditures, reviews its practices, conducts long-range planning and sets policies on all postal matters. The Board takes up matters such as service standards, capital investments and facilities projects exceeding $25 million. It also approves officer compensation.
http://about.usps.com/who-we-are/leadership/board-governors.htm
Now for the really eye-opening part: Which President appointed most of the Governors?
Thurgood Marshall Jr. Chairman appointed by George W. Bush
Mickey D. Barnett, Vice-Chairman, appointed by George W. Bush
Louis J. Giuliano, Member, appointed by George W. Bush
James H. Bilbray, Member, appointed by George W. Bush
Ellen C. Williams, Member, appointed by George W. Bush
Dennis J. Toner, Member, appointed by Barack Obama
Patrick R. Donahoe, Postmaster General and CEO, appointed by Board Of Governors
Ronald A. Stroman, Deputy Postmaster General, appointed by Board Of Governors
James C. Miller III, Member, appointed by George W. Bush
Note: I'm not sure if James C. Miller III is still on the Board of Governors, Wiki list him, but USPS site
Members of the Board of Governors
does not.
More on Patrick R. Donahoe here
Is there something wrong with that picture? Patrick R. Donahoe, was appointed by the Board of Governors whom all except one were GWB appointees?? YIKES!!! I'm seeing an ugly picture here which may be the bigger picture of what is currently happening with USPS.
http://www.thenation.com/blog/166103/post-office-not-broke
At the behest of the Republican-controlled Congress of the Bush-Cheney era, the USPS has been forced since 2006 to pre-fund future retiree health benefits. As the American Postal Workers Union notes, "This mandate is the primary cause of the agency's financial crisis. No other government agency or private company bears this burden, which costs the USPS approximately $5.5 billion annually."

Now, however, we learn that the pre-funding requirements have taken so much money from the USPS that—according to the postal service's own inspector general—it has "significantly exceeded" the level of reserved money that the federal government or private corporations divert to meet future pension and retiree healthcare demands. "Using ratepayer funds, it has built a war chest of over $326 billion to address its future liabilities," acknowledges Postal Service Inspector General David C. Williams.
USPS Area Mail Processing study decision 2/23/12
In a move to help ensure the future of the nation's mail system, while adapting to America's changing mailing trends, the U.S. Postal Service today announced that the Area Mail Processing consolidation studies that began more than five months ago have been completed.

These changes are a necessary part of a larger comprehensive plan developed by the Postal Service to reduce operating costs by $20 billion by 2015 and return the organization to profitability.

The Postal Service is in the midst of a financial crisis due to the combined effects of the economic recession, increased use of electronic communications, and an obligation to prefund retiree health benefits. First-Class Mail volume has deteriorated, leading to significant revenue declines, and the obligation to prefund these retiree health benefits on an accelerated basis remains unresolved. To date, legislative proposals to address the financial crisis remain pending, leaving the Postal Service and the mailing industry it supports in an increasingly precarious position.

Since 2006, First-Class Mail volume has rapidly declined, leaving a mail mix that generates far less revenue than it costs to sustain postal operations. The dramatic decline in mail volume has resulted in an enormous amount of excess capacity within the network, creating significant opportunity for consolidation.
Previous USPS announcement on July 26, 2011 regarding Expanded Access Study
WASHINGTON — As more customers choose to conduct their postal business online, on their smart phones and at their favorite shopping destinations, the need for the U.S. Postal Service to maintain its nearly 32,000 retail offices — the largest retail network in the country — diminishes. To that end, the U.S. Postal Service announced today that it will be taking the next step in right-sizing its expansive retail network by conducting studies of approximately 3,700 retail offices to determine customer needs. As part of this effort, the Postal Service also introduced a retail-replacement option for affected communities around the nation.

"Today, more than 35 percent of the Postal Service's retail revenue comes from expanded access locations such as grocery stores, drug stores, office supply stores, retail chains, self-service kiosks, ATMs and usps.com, open 24/7," said Postmaster General Patrick Donahoe. "Our customer's habits have made it clear that they no longer require a physical post office to conduct most of their postal business."

For communities currently without a postal retail office and for communities affected by these retail optimization efforts, the Postal Service introduced the Village Post Office as a potential replacement option. Village Post Offices would be operated by local businesses, such as pharmacies, grocery stores and other appropriate retailers, and would offer popular postal products and services such as stamps and flat-rate packaging.

"By working with third-party retailers, we're creating easier, more convenient access to our products and services when and where our customers want them," Donahoe said. "The Village Post Office will offer another way for us to meet our customers' needs."
Here:
http://about.usps.com/news/national-releases/2011/pr11_089.htm
On Edit
: Thank you ProSense for your further research on this matter. I'm going to include this information here, because there seems to be a misconception that President Obama can just fire Patrick Donahoe if he wanted to.
House Dem calls for firing postmaster general; blames Obama, GOP Congress
Rep. Peter DeFazio (D-Ore.) on Monday afternoon called on the the Obama administration to fire Postmaster General Patrick Donahoe in light of Donahoe's announced plan for drastic service reductions at the U.S. Postal Service (USPS).
Just one problem with that
The President Cannot Fire The Postmaster General
In 1971, the Post Office Department was re-organized into the United States Postal Service, a special agency independent of the executive branch. Thus, the Postmaster General is no longer a member of the Cabinet and is no longer in Presidential succession.
Furthermore
:
The Postal Reorganization Act of 1970 abolished the United States Post Office Department, a part of the cabinet, and created the United States Postal Service, a corporation-like independent agency with an official monopoly on the delivery of mail in the United States. Pub.L. 91-375 was signed by President Richard Nixon on August 12, 1970.

The legislation was a direct outcome of the U.S. postal strike of 1970.

The first paragraph of the Act reads:

"The United States Postal Service shall be operated as a basic and fundamental service provided to the people by the Government of the United States, authorized by the Constitution, created by Act of Congress, and supported by the people. The Postal Service shall have as its basic function the obligation to provide postal services to bind the Nation together through the personal, educational, literary, and business correspondence of the people. It shall provide prompt, reliable, and efficient services to patrons in all areas and shall render postal services to all communities. The costs of establishing and maintaining the Postal Service shall not be apportioned to impair the overall value of such service to the people.
WOW check this out, thanks to suffragette.
Shock Doctrine at U.S. Postal Service: Is a Manufactured Crisis Behind Push Toward Privatization?
But many postal workers say the much-touted crisis facing the U.S. Postal Service is not what it seems. They argue the greatest volume of mail handled in the 236-year history of the postal service was 2006. They also point to a 2006 law that forced the USPS to become the only agency required to fund 75 years of retiree health benefits over just a 10-year span, and say the law's requirements account for 100 percent of the service's $20 billion in losses over the previous four years, without which the service would have turned a profit. Last week, Republicans introduced legislation to overhaul the USPS in response to a bill proposed by Democrats that would refund a reported $6.9 billion in over-payments to the USPS retirement plan, offer early retirement and voluntary separation incentives, adjust retiree benefits prepayment requirements, and preserve employee protections set out in collective bargaining agreements.
Discuss
Which brings us to the truth of the matter: Ramping up drilling and oil infrastructure can provide some economic benefits, but holding down gasoline prices is not one of them.
If we want to be less vulnerable to price spikes, we have to use less oil. Period.
That is the context that should pervade news coverage of gas prices.
Economists and energy analysts have repeatedly made this point:
Michael Levi: "Since oil is traded on a global market, the effects of volatility are reflected in the price of every barrel of oil regardless of its origin. This problem can be addressed only by making the U.S. economy more resilient to oil price swings, which includes -- most significantly -- lowering total U.S. oil consumption."

Severin Borenstein: "We should avoid the fantasy of thinking that by choosing a different seller, we are somehow offsetting the impact of Middle East production. To fix the problem, we just need to use less oil."

Tom Kloza: "This drill drill drill thing is tired ... It's a simplistic way of looking for a solution that doesn't exist."

Richard Newell: "We do not project additional volumes of oil that could flow from greater access to oil resources on Federal lands to have a large impact on prices given the globally integrated nature of the world oil market."

Doug Holtz-Eakin: "You can't change the oil price very much with the U.S. exploration."

Ken Green: "We probably couldn't produce enough to affect the world price of oil. ... People don't understand that."

Lou Crandall: "Higher oil prices today are a global phenomenon, and the additional supply from increased drilling by the U.S. would not alter the global balance of supply and demand greatly. ... The only difference is that a somewhat larger share of the revenue would accrue to domestic interests (governmental and private) rather than to foreign suppliers."
Contrast those facts with the framing we're getting from countless news reports:
Beyond the shame of being used by political operatives to distribute a powerful and thoroughly inaccurate message, news reports that privilege the myths over the facts help cement a short-sighted perspective on our energy challenges.
A wealth of information at link:
http://mediamatters.org/blog/201202230006
Excellent Read!
See also:
GOP Deceptions About Gas Prices

With Wall Street profits and bonuses falling and big banks cutting jobs right and left, it seems that the financial services sector would be scaling back its free-spending ways.

But, according to a Center for Responsive Politics analysis, they likely to set records in 2012 on political spending — the bulk of which is aimed at defeating President Barack Obama and electing Republicans opposed to the Dodd-Frank financial regulations enacted to address the sector's 2008 meltdown.

It seems Wall Street has had its feelings hurt by the Obama administration's increasingly vocal support for policies that benefit the other 99 percent, and as a result, the financial industry is giving heavily to Republicans and, in particular, former Massachusetts Gov. Mitt Romney (R).

...

Wall Street has made no secret of its desire for Republican candidate who will return to the unregulated anything-goes policies of the Bush years. The banks spent millions lobbying against passage and implementation of Dodd-Frank and helped Republicans oppose the nomination of a director of the Consumer Financial Protection Bureau. It's comes as little surprise then that Romney, who announced his opposition to Dodd-Frank early in his campaign, has emerged as Wall Street's favorite candidate.
http://thinkprogress.org/economy/2012/02/13/423801/wall-street-records-donations/
Obama takes tough tone with Wall Street as he seeks regulator boost
President Obama geared up for another battle with Republicans over financial reform as he offered tough critiques of Wall Street in his fiscal 2013 proposal while demanding robust budgets for watchdog agencies.

The president showed no signs of backing down in the face of 18 months of GOP and business community criticism of the Dodd-Frank financial reform law. Rather, there are indications he is doubling down, even as the price tag of the government's massive bailout of that sector grew.

The president opened Monday's budget request with a harsh broadside of the bad actions that led the United States into a steep financial crisis. Calling it an "abdication of responsibility" by the nation's financial sector, Obama painted the actions of Wall Street before the financial crisis as capitalism gone wrong.

...

"I will not go back to the days when Wall Street was allowed to play by its own set of rules," he said, running down major provisions of Dodd-Frank. "The rest of us aren't bailing you out ever again."
http://thehill.com/blogs/on-the-money/banking-financial-institutions/210285-obama-takes-tough-tone-with-wall-street-as-he-seeks-regulator-boost
BRIEF SUMMARY OF THE DODD-FRANK WALL STREET
REFORM AND CONSUMER PROTECTION ACT

Consumer Protections with Authority and Independence: Creates a new
independent watchdog, housed at the Federal Reserve, with the authority to
ensure American consumers get the clear, accurate information they need to
shop for mortgages, credit cards, and other financial products, and protect
them from hidden fees, abusive terms, and deceptive practices.

Ends Too Big to Fail Bailouts: Ends the possibility that taxpayers will be
asked to write a check to bail out financial firms that threaten the economy
by: creating a safe way to liquidate failed financial firms; imposing tough
new capital and leverage requirements that make it undesirable to get too
big; updating the Fed's authority to allow system-wide support but no longer
prop up individual firms; and establishing rigorous standards and
supervision to protect the economy and American consumers, investors and
businesses.

...

Enforces Regulations on the Books: Strengthens oversight and empowers
regulators to aggressively pursue financial fraud, conflicts of interest and
manipulation of the system that benefits special interests at the expense of
American families and businesses.

(Created) Consumer Financial Protection Bureau
http://banking.senate.gov/public/_files/070110_Dodd_Frank_Wall_Street_Reform_comprehensive_summary_Final.pdf
Who is the new Director of Consumer Financial Protection Bureau?
Richard Cordray Nomination: Obama Using Recess Appointment Amid GOP Opposition
Oh my...no wonder Wall Street doesn't like him. Too bad poor little 1%, doesn't like regulation.
Obama/Biden 2012

Republicans reacted as if they had been sucker punched. Karl Rove went on Fox News, decried the ad, and accused Obama of "Chicago-style politics." (By the way, Clint Eastwood is an Independent who supported McCain in 2008.)

"It's Halftime in America" contained three themes that promoted Obama's message. The first was the game is not over, America's best days are not over. Eastwood said, "The people of Detroit" almost lost everything. But we all pulled together, now Motor City is fighting again" Detroit's showing us it can be done."

In his State-of-the-Union Address, President Obama used a similar frame, "Think about the America within our reach... An economy built to last, where hard work pays off, and responsibility is rewarded. We can do this. I know we can, because we've done it before. At the end of World War II, when another generation of heroes returned home from combat, they built the strongest economy and middle class the world has ever known."

The second theme was that progress has been made. In Eastwood's case he said, "Motor City is fighting again." The government bailouts of the auto industry saved 1.4 million jobs and the big three companies are again making a profit.
Much more at link:
http://www.opednews.com/articles/The-GOP-Problem--It-s-Hal-by-Bob-Burnett-120210-678.html
[link:http://|Obama Auto Bailout Has Created 10 Times More Jobs Than Romney Ever Did]

Mitt Romney may have only created 10,000 jobs while at Bain Capital, but the Obama auto industry bailout that Romney opposed has created 170,000 jobs since 2009.

...

The reality is that the real number of jobs created by Romney is likely 10,000. This means that the auto bailout, which the candidate who claims that he can fix the economy opposed, has created ten times more jobs than Mitt Romney ever did in the private sector. It isn't about how many jobs Romney created while at Bain. The point is that Mitt Romney was, and continues to be, wrong about the auto bailout.

The auto bailout worked. It not only saved hundreds of thousands of jobs, but it has created 170,000 new ones. If Mitt Romney was in charge of the economy, those jobs wouldn't exist. Romney wanted the auto companies to go through bankruptcy so that the auto unions could be busted, which underscores Mitt Romney's approach to the economy.
http://www.politicususa.com/en/obama-romney-auto-bailout
Romney: Let Detroit Go Bankrupt
Rick Santorum: We Should Have Let The U.S. Auto Industry 'Melt Down
http://thinkprogress.org/economy/2012/01/20/407794/rick-santorum-we-should-have-let-the-us-auto-industry-melt-down/
Auto bailout sticks to GOP

All four of the remaining Republican candidates opposed the bailout.

In 2008, Romney wrote an article in the New York Times titled "Let Detroit Go Bankrupt." It angered many in his native state.

"If General Motors, Ford and Chrysler get the bailout that their chief executives asked for yesterday, you can kiss the American automotive industry goodbye," he wrote then. "It won't go overnight, but its demise will be virtually guaranteed."

Gingrich, in 2008, said: "I believe that it would be a mistake for the taxpayers to be forced to bail out Detroit."

Paul called the bailouts "foolish and very damaging to the long-term economic health of our country," and Santorum also opposed the bailouts.
The Impact on the U.S. Economy of the Successful Automaker Bankruptcies

Providing government assistance to General Motors and Chrysler through quick and structured
bankruptcy proceedings avoided the worst case scenario. In reviewing the economic impacts using actual
economic performance for 2009 and much of 2010, the net public benefit—the difference between what
CAR estimated did happen and what CAR predicted might have happened to government transfer
payments, social security receipts and personal income taxes paid—was just $4.2 billion in 2009 and $0.5
billion in 2010.

The U.S. government provided $80 billion in total assistance to General Motors, GMAC, Chrysler and
Chrysler Financial , and stands to recover a substantial amount of this financial assistance through
upcoming sales of stock in the Initial Public Offerings (IPOs) at General Motors and Chrysler. To date,
$13.4 billion in principal has already been repaid, which brings the total remaining outstanding
government investment to $66.6 billion. The updated analysis contained in this memo demonstrates that
even if the net return to the U.S. Treasury is $28.6 billion (the amount of the net public benefit of the
government intervention) lower than the outstanding public investment in these two companies, or $38
billion, the public will have at least met a two-year break-even. This means that if the Treasury recovers
$0.57 on the dollar or more in upcoming equity sales, the public will have been made fully whole.
Additionally, the government's actions avoided personal income losses totaling over $96 billion, 1.1
million net job losses in 2009, and another 314,400 in 2010.
http://www.cargroup.org/pdfs/bankruptcy.pdf
Auto bailout could be Barack Obama's secret weapon
With GM back on its feet, Democrats hope to punish Republicans for their early opposition. | AP Photo
Could be
Why the Right Went Insane Over the Clint Eastwood Superbowl Ad
When Clint Eastwood Mocks You, You're Officially Screwed (Love This One!)
By our own WilliamPitt
Obama/Biden 2012
(Reuters) - U.S. President Barack Obama signed an executive order on Monday imposing new, stricter sanctions on Iran and its central bank, saying a broader asset freeze was necessary because Iranian banks were concealing transactions.

"I have determined that additional sanctions are warranted, particularly in light of the deceptive practices of the Central Bank of Iran and other Iranian banks to conceal transactions of sanctioned parties, the deficiencies in Iran's anti-money laundering regime and the weaknesses in its implementation, and the continuing and unacceptable risk posed to the international financial system by Iran's activities," Obama said in a letter to Congress.

The executive order, described as a further step in the U.S. effort to isolate Iran, prevents any assets deemed to be in U.S. control - including foreign branches of American banks - from being transferred, paid, exported or withdrawn.
http://www.reuters.com/article/2012/02/06/us-iran-usa-assets-urgent-idUSTRE81519Q20120206