Fawke Em
Fawke Em's Journal

Fawke Em's Journal

February 12, 2016

This morning, Civil Rights icon and longtime Congressman John Lewis, according to the media, insinuated that Bernie Sanders' bona fides in the Civil Rights movement might not be as deep as the Sanders campaign has contended when he said, "I never saw him. I never met him," Lewis said. "I was chair of the Student Nonviolent Coordinating Committee for three years, from 1963 to 1966. I was involved with the sit-ins, the Freedom Rides, the March on Washington, the march from Selma to Montgomery and directed (the) voter education project for six years. But I met Hillary Clinton. I met President (Bill) Clinton."

Taken at face value, Lewis' comment may or may not mean anything other than he never met Sanders, which, in and of itself doesn't mean a thing. Sanders was protesting in Chicago in 1964 as chairman of Congress of Racial Equality (CORE) and his actions were localized.

http://www.motherjones.com/mojo/2016/02/bernie-sanders-core-university-chicago

If that was it, then there would be little left to say. We have newspaper clippings and letters proving Sanders did protest segregation and served on the CORE commission and Lewis' involvement is legendary. There were many students across the nation actively involved in CORE and other Civil Rights groups. There is no way one could know and/or meet everyone.

But, as a result of the way Lewis worded his statement, any thinking person could draw a myriad of conclusions, including that Lewis had meet the Clintons in the 1960s.

However, that doesn't seem to be the case. Both researchers on this board and in the media have discovered passages from Lewis' own books that suggest he didn't even hear of the Clintons until the early 1970s and met them in 1991, at least half a decade after the bulk of the movement: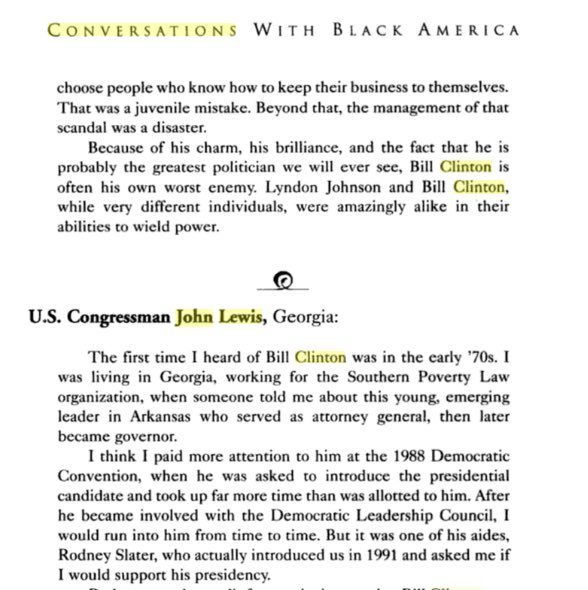 Still, Lewis is an older man and I begrudge no one of misremembering exact dates. I'm 46 and forget that my glasses are on my head. The human memory is fallible - no matter how old or young you are. Ask a police detective working a crime.

None of this, however, deserves the attention its getting. Lewis prefers Clinton just like Harry Belafonte, another Civil Rights icon and MLK confidante, prefers Sanders. Period.

This should be the end of it, until...

Enter well-known smear merchant David Brock.

Brock recently acquired Blue Nation Review and is using it to further Clinton's campaign. Brock's Correct the Record SuperPAC works closely with the Clinton campaign through a series of creative federal loopholes.

There's no question Brock supports Clinton. No reason to even argue that point.

But what Brock did today hearkens back to his time as a right-winger hell bent on destroying Anita Hill to further the nomination of now Justice Clarence Thomas, arguably the most incompetent member of the Supreme Court.

Within an hour or two of Lewis' comments, Brock's "reporter" had a story lined up and ready about how Sanders' supporters were trolling Lewis: http://bluenationreview.com/civil-rights-legend-john-lewis-trolled-by-bernie-supporters/

Pretty quick "reporting" there, Brock. Or was this a political set up?

When one reads most of the comments, they are from people who SAY Sanders supporters are trolling Lewis, but aren't Tweets from those who actually are. Most of the comments are from Twitter denizens who are warning trollers not to troll, which is fine and perfectly acceptable, but it's still not examples of a cadre of race-baiting Sanders supporters.

There are some derogatory comments, sure, but not from self-described Sanders supporters. A quick read of their accounts don't even MENTION Bernie Sanders on their homes pages and some are obvious right-wingers.

So how many Bernie supporters making angry statements did Brock's team dig up?

Two.

One a definite and the other a maybe. Hardly enough to garner the screeching headline, "NEW LOW: Civil Rights Legend John Lewis Getting Trolled by Bernie Supporters."

Were there horrible remarks directed at Lewis? Yes.

Were most of them Sanders fans? No.

So why does Brock's "reporter" call all of them Sanders supporters?

To spin a narrative, of course.

Brock is attempting to promote the idea that all the derogatory comments were from Sanders supporters and that Sanders supporters were all trolling Lewis, which is simply not true. But, the purpose, of course, is to turn undecided PoC from supporting Sanders based on the actions of (two of) his supporters.

Hasn't that meme gotten old?

I've spent half the day talking with younger supporters who mostly misread the headline and thought Lewis said he'd never met Sanders at all and were confused, but none of them trashed Lewis on his past or for any of the actions he did to promote Civil Rights.

Are there more Sanders supporters trashing Lewis that Brock didn't quote? Possibly. Everything is possible, but, given that I follow and am followed by dozens of his supporters and given I read the Sanders-related hashtags, I didn't see very much evidence of this alleged bash. It's Brock spinning like Linda Blair's head.

This is the "kitchen sink," folks.

#DontTakeTheBait

The best policy is to ignore Lewis' comments or Brock's spin and simply keep pointing to Clinton's less-than-stellar record of supporting her husband's disastrous crime bill and financial ties to the private prison industry. For once, this isn't really about Sanders. It's about Clinton.