Fri Nov 19, 2021, 02:29 AM
KY_EnviroGuy (13,860 posts)
Is the lunar eclipse still on tonight? [View all]
Just wanted to make sure Republicans have not legislated a ban on eclipses known to be bad for bidness
....
Catch this month's lunar eclipse, the longest of the century
To enjoy a spectacular Blood Moon, all you need is a clear sky.
By Michael E. Bakich
Astronomy Magazine
Published: Thursday, November 18, 2021
Link:
https://astronomy.com/magazine/news/2021/11/catch-this-months-lunar-eclipse
Snips...
On Friday, Nov. 19, the Sun, Earth, and the Moon (in that order) will line up and most of Moon will trek through Earthís umbra, the darkest part of its shadow. Although this wonít be a total lunar eclipse, itíll be darn close. At mid-eclipse, 97 percent of our only natural satellite will be covered by Earthís umbra.

Observers with clear skies should be able to spot nearly all the effects that are visible during a total lunar eclipse. This wouldnít be the case if it were a partial solar eclipse (with 3 percent of the Sunís face uncovered, you would miss out on Bailyís beads, diamond rings, and the solar corona). In other words, weíre lucky Luna is the star of this monthís show.
Who will see it?

Anyone located on the nighttime side of our planet during this eclipse will catch at least some of it. Observers throughout North America will have the prime views, with only people along the Atlantic coast missing the Moonís passage through the penumbra (the lighter, outer part of Earthís shadow), which usually isnít visible anyway.

When and where?

The start of the eclipse, when the Moon first touches our planetís penumbra, occurs at 1:02:09 a.m. EST. Luna enters the umbra beginning at 2:18:43 a.m. EST and leaves it at 5:47:07 a.m. EST. The eclipse officially ends when the Moon departs the penumbra at 7:03:44 a.m. EST. Greatest eclipse, at which point the Moon is as deep in Earthís umbra as it will get, occurs at 4:02:56 a.m. EST.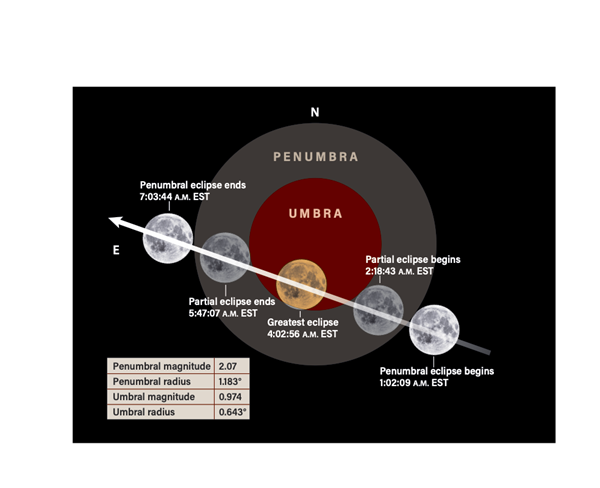 Artwork courtesy of Astronomy Magazine
Enjoy!..........
7 replies, 640 views
Replies to this discussion thread
7 replies
Author
Time
Post

Is the lunar eclipse still on tonight?

[View all]

KY_EnviroGuy
Nov 2021
OP
BlackSkimmer
Nov 2021
#1
KY_EnviroGuy
Nov 2021
#3
Earth-shine
Nov 2021
#2
malaise
Nov 2021
#4
KY_EnviroGuy
Nov 2021
#5
malaise
Nov 2021
#6
Crunchy Frog
Nov 2021
#7