Mon Apr 8, 2013, 09:05 PM
scarletwoman (31,893 posts)
"I'm not a hypocrite. I spoke ill of her when she was alive & I'll speak ill of her now she's dead." [View all]
http://www.guardian.co.uk/politics/2013/apr/08/margaret-thatcher-death-orgreave-coal-miners
"I'll tell you what really annoyed us miners," said Pete Mansell, sipping a pint of John Smith's on Monday. "She said we were the enemy within. We weren't. We were just looking after our lives, our families, our kids and our properties, everything that we ever had. We were fighting for that big style."
Along with most of the other men drinking in the Black Bull pub in Aughton, Rotherham, the 55-year-old former pit worker had borne witness to the fiercest confrontation in the miners strike at the nearby Orgreave coking plant on 18 June 1984.
Almost 30 years have gone by since Margaret Thatcher characterised those who took part in the "battle of Orgreave" as thugs. But in a village that one drinker said had been "decimated by Thatcher", the words still cut deep. It is perhaps no surprise that those gathered in the pub were having what they described as a party after hearing about her death.
<snip>
There were 95 miners arrested at Orgreave and prosecuted for riot, a charge that carried the potential for a long prison sentence up to a maximum of life. But a year later, on 17 July 1985, all 95 were acquitted. The prosecution withdrew, from the first trial of 15, after police gave unconvincing accounts in the witness box: it became clear that the miners had themselves been attacked by police on horses or with truncheons, and there was evidence that a police officer's signature on a statement had been forged.
I strongly encourage DUers to go to the link and read the whole piece - especially those who are too young to remember what was going on in those days when Thatcher was in power.
Bonus pic - here's Steve Bell's (Brit cartoonist) eulogy for Thatcher: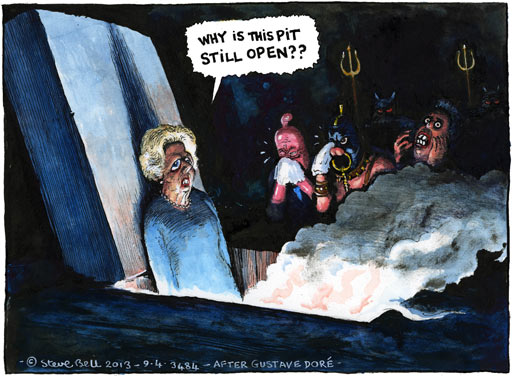 All I will say is, I hope she has gone on to the reward she so richly deserves.
sw
13 replies, 4178 views
Replies to this discussion thread
13 replies
Author
Time
Post

"I'm not a hypocrite. I spoke ill of her when she was alive & I'll speak ill of her now she's dead."

[View all]

scarletwoman
Apr 2013
OP
forestpath
Apr 2013
#1
scarletwoman
Apr 2013
#2
dflprincess
Apr 2013
#3
forestpath
Apr 2013
#4
dflprincess
Apr 2013
#7
gussmith
Apr 2013
#11
malaise
Apr 2013
#5
dflprincess
Apr 2013
#6
Spitfire of ATJ
Apr 2013
#9
Rozlee
Apr 2013
#12
Spitfire of ATJ
Apr 2013
#13
UTUSN
Apr 2013
#8
blkmusclmachine
Apr 2013
#10