Sun Dec 29, 2013, 09:13 AM
solarhydrocan (551 posts)
The Guardian: I worked on the US drone program. The public should know what really goes on [View all]

Heather Linebaugh theguardian.com, Sunday 29 December 2013 07.30 EST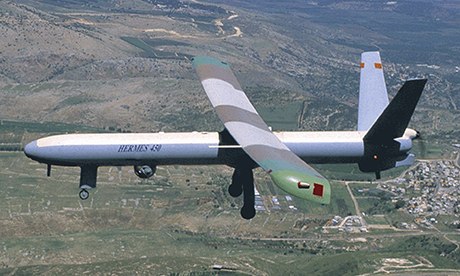 An Elbit Systems Hermes 450 drone. Photograph: AFP/Getty Images
Whenever I read comments by politicians defending the Unmanned Aerial Vehicle Predator and Reaper program – aka drones – I wish I could ask them some questions. I'd start with "how many women and children have you seen incinerated by a Hellfire missile?" and "How many men have you seen crawl across a field, trying to make it to the nearest compound for help while bleeding out from severed legs?" Or even more pointedly, "how many soldiers have you seen die on the side of a road in Afghanistan because our ever-so-accurate UAV's [unmanned aerial vehicle] were unable to detect an IED [improvised explosive device] that awaited their convoy?"
Few of these politicians who so brazenly proclaim the benefits of drones have a real clue of what actually goes on. I, on the other hand, have seen these awful sights first-hand.
I knew the names of some of the young soldiers I saw bleed to death on the side of a road. I watched dozens of military-aged males die in Afghanistan, in empty fields, along riversides, and some right outside the compound where their family was waiting for them to return home from mosque.
The US and British militaries insist that this is such an expert program, but it's curious that they feel the need to deliver faulty information, few or no statistics about civilian deaths and twisted technology reports on the capabilities of our UAV's. These specific incidents are not isolated, and the civilian casualty rate has not changed, despite what our defense representatives might like to tell us...more
http://www.theguardian.com/commentisfree/2013/dec/29/drones-us-military
There's no statute of limitations on murder.
162 replies, 27754 views
Replies to this discussion thread
162 replies
Author
Time
Post

The Guardian: I worked on the US drone program. The public should know what really goes on

[View all]

solarhydrocan
Dec 2013
OP
anti partisan
Dec 2013
#1
solarhydrocan
Dec 2013
#4
anti partisan
Dec 2013
#7
swilton
Dec 2013
#82
L0oniX
Dec 2013
#11
Enthusiast
Dec 2013
#59
SammyWinstonJack
Dec 2013
#12
Laelth
Dec 2013
#2
KG
Dec 2013
#3
cinnabonbon
Dec 2013
#5
valerief
Dec 2013
#6
99Forever
Dec 2013
#8
zeemike
Dec 2013
#9
marmar
Dec 2013
#10
another_liberal
Dec 2013
#13
L0oniX
Dec 2013
#14
woo me with science
Dec 2013
#16
Name removed
Dec 2013
#41
L0oniX
Dec 2013
#42
DLevine
Dec 2013
#15
iamthebandfanman
Dec 2013
#17
sabrina 1
Dec 2013
#23
solarhydrocan
Dec 2013
#52
sabrina 1
Dec 2013
#108
woo me with science
Dec 2013
#18
SidDithers
Dec 2013
#19
whatchamacallit
Dec 2013
#43
SidDithers
Dec 2013
#69
proverbialwisdom
Dec 2013
#65
SidDithers
Dec 2013
#68
proverbialwisdom
Dec 2013
#71
reACTIONary
Dec 2013
#80
sabrina 1
Dec 2013
#109
SidDithers
Dec 2013
#117
think
Dec 2013
#122
SidDithers
Dec 2013
#125
think
Dec 2013
#126
SidDithers
Dec 2013
#127
think
Dec 2013
#128
DisgustipatedinCA
Dec 2013
#129
think
Dec 2013
#131
DisgustipatedinCA
Dec 2013
#132
think
Dec 2013
#136
DisgustipatedinCA
Dec 2013
#138
think
Dec 2013
#142
DisgustipatedinCA
Dec 2013
#143
snooper2
Dec 2013
#144
sabrina 1
Dec 2013
#157
proverbialwisdom
Dec 2013
#66
MrScorpio
Dec 2013
#20
reACTIONary
Dec 2013
#81
MrScorpio
Dec 2013
#85
reACTIONary
Dec 2013
#145
MrScorpio
Dec 2013
#149
reACTIONary
Dec 2013
#151
Maedhros
Dec 2013
#88
reACTIONary
Dec 2013
#146
Maedhros
Dec 2013
#155
sabrina 1
Dec 2013
#158
polly7
Dec 2013
#21
treestar
Dec 2013
#22
sabrina 1
Dec 2013
#24
KG
Dec 2013
#25
treestar
Dec 2013
#27
KG
Dec 2013
#30
sabrina 1
Dec 2013
#91
sabrina 1
Dec 2013
#56
Maedhros
Dec 2013
#89
sabrina 1
Dec 2013
#28
treestar
Dec 2013
#26
sabrina 1
Dec 2013
#29
treestar
Dec 2013
#33
sabrina 1
Dec 2013
#37
bvar22
Dec 2013
#58
Enthusiast
Dec 2013
#62
sabrina 1
Dec 2013
#86
Enthusiast
Dec 2013
#61
sabrina 1
Dec 2013
#87
whatchamacallit
Dec 2013
#46
DisgustipatedinCA
Dec 2013
#49
ucrdem
Dec 2013
#98
think
Dec 2013
#31
treestar
Dec 2013
#35
think
Dec 2013
#45
Enthusiast
Dec 2013
#63
solarhydrocan
Dec 2013
#113
theHandpuppet
Dec 2013
#115
sabrina 1
Dec 2013
#50
SomethingFishy
Dec 2013
#60
Maedhros
Dec 2013
#90
NuclearDem
Dec 2013
#93
bvar22
Dec 2013
#154
sabrina 1
Dec 2013
#32
treestar
Dec 2013
#38
whatchamacallit
Dec 2013
#47
solarhydrocan
Dec 2013
#51
sabrina 1
Dec 2013
#53
solarhydrocan
Dec 2013
#112
Puglover
Dec 2013
#44
El_Johns
Dec 2013
#48
grahamhgreen
Dec 2013
#75
theHandpuppet
Dec 2013
#116
NoOneMan
Dec 2013
#34
rhett o rick
Dec 2013
#72
grahamhgreen
Dec 2013
#73
polly7
Dec 2013
#78
solarhydrocan
Dec 2013
#114
polly7
Dec 2013
#147
think
Dec 2013
#121
polly7
Dec 2013
#148
Harmony Blue
Dec 2013
#36
DirkGently
Dec 2013
#39
sabrina 1
Dec 2013
#54
DirkGently
Dec 2013
#55
MisterP
Dec 2013
#57
sabrina 1
Dec 2013
#83
sendero
Dec 2013
#40
DirkGently
Dec 2013
#64
grahamhgreen
Dec 2013
#74
sendero
Dec 2013
#120
DirkGently
Dec 2013
#160
heaven05
Dec 2013
#67
fleabiscuit
Dec 2013
#70
Tierra_y_Libertad
Dec 2013
#76
solarhydrocan
Dec 2013
#111
merrily
Dec 2013
#77
blkmusclmachine
Dec 2013
#79
ucrdem
Dec 2013
#84
Maedhros
Dec 2013
#92
ucrdem
Dec 2013
#95
Maedhros
Dec 2013
#102
ucrdem
Dec 2013
#103
DisgustipatedinCA
Dec 2013
#130
ucrdem
Dec 2013
#133
DisgustipatedinCA
Dec 2013
#134
ucrdem
Dec 2013
#135
DisgustipatedinCA
Dec 2013
#137
ucrdem
Dec 2013
#139
Post removed
Dec 2013
#140
ucrdem
Dec 2013
#141
SidDithers
Dec 2013
#156
NuclearDem
Dec 2013
#94
ucrdem
Dec 2013
#96
NuclearDem
Dec 2013
#97
ucrdem
Dec 2013
#99
NuclearDem
Dec 2013
#100
ucrdem
Dec 2013
#101
NuclearDem
Dec 2013
#104
ucrdem
Dec 2013
#105
Skittles
Dec 2013
#106
Historic NY
Dec 2013
#107
solarhydrocan
Dec 2013
#110
Lost_Count
Dec 2013
#118
solarhydrocan
Dec 2013
#123
Lost_Count
Dec 2013
#124
Solly Mack
Dec 2013
#119
LWolf
Dec 2013
#150
Vashta Nerada
Dec 2013
#152
Maedhros
Dec 2013
#161
WatermelonRat
Dec 2013
#153
rafeh1
Dec 2013
#159
woo me with science
Dec 2013
#162