Thu Jun 22, 2017, 03:50 PM
IronLionZion (35,095 posts)
Bank dividends are near all-time highs [View all]
President Trump has condemned the Dodd-Frank rules placed on Wall Street as a "disaster" that have prevented banks from lending money to cash-starved businesses.
House Republicans responded by passing the Financial Choice Act, a bill that would gut many of Dodd-Frank's post-crisis safeguards in an effort to accelerate the sluggish U.S. economy.
But banks have more cash than they know what to do with these days. American banks raked in record profits last year.
More tellingly, banks handed out $102.8 billion in dividends to shareholders in 2016, according to the FDIC. That's the third-highest amount on record, going back to 1984. It is just shy of the all-time high of $110.4 billion shelled out in 2007, the year before the financial meltdown.
Bank dividends crumbled in half in 2008, sinking to $51.1 billion, FDIC stats show. But they rebounded steadily following that, even after Congress passed Dodd-Frank in 2010.
"Banks have plenty of extra money for expanding their lending. They choose not to lend that money, instead 'returning capital' to their shareholders," Cornell University law professor Saule Omarova told the Senate banking committee last week.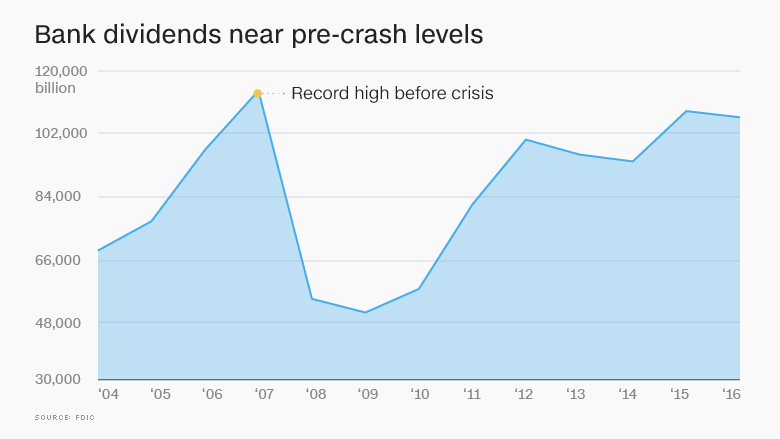 ...
"Dodd-Frank was a very, very positive thing for the industry. We now have one of the stronger banking industries in the world because of it," said Charles Peabody, an analyst at Compass Point Research & Trading.
http://money.cnn.com/2017/06/22/investing/bank-dividends/index.html?iid=hp-stack-dom
Who's ready for Trump to make America great again like it was before those job killing financial regulations? What could go wrong?
9 replies, 2012 views
Replies to this discussion thread
9 replies
Author
Time
Post

Bank dividends are near all-time highs

[View all]

IronLionZion
Jun 2017
OP
bresue
Jun 2017
#1
IronLionZion
Jun 2017
#2
doc03
Jun 2017
#3
IronLionZion
Jun 2017
#4
doc03
Jun 2017
#5
IronLionZion
Jun 2017
#6
BumRushDaShow
Jun 2017
#8
bresue
Jun 2017
#9
BumRushDaShow
Jun 2017
#7