Page: 1
Exotica
Exotica's Journal
Profile Information
Gender: Female
Member since: Thu Feb 15, 2018, 12:16 PM
Number of posts: 1,461

Journal Archives
http://www.concordmonitor.com/How-can-Levi-Sanders-who-lives-in-the-west-of-NH-run-in-CD1-to-the-east-15929819
Levi Sanders made national headlines as he announced his bid for the U.S. House in New Hampshire's First Congressional District.
When you have a famous father – Levi's the son of U.S. senator and 2016 Democratic presidential candidate Bernie Sanders – it's only natural.
But here in the Granite State – Sanders's announcement also grabbed attention – and some derision – because he lives in Claremont, near the Vermont border and far from the First District, which covers the eastern part of the state.
While it's uncommon for a candidate to live outside the district in which they're running, it is legal. The U.S. Constitution only mandates that House members reside in the state they serve.
Sanders also made news by becoming the eighth Democratic candidate – including two strong supporters of his father's 2016 White House bid – to try and succeed retiring four-term Democratic Congresswoman Carol Shea-Porter.
snip
use subtitles, it is so damning!


https://talkingpointsmemo.com/livewire/nbc-white-house-preparing-to-oust-mcmaster-as-national-security-adviser
The White House is preparing to replace National Security Adivser H.R. McMaster as early as next month, NBC News reported Thursday, citing five unnamed people familiar with the discussions.
The move, according to NBC News, has been orchestrated by White House chief of staff John Kelly and Defense Secretary James Mattis.
CNN reported last week
, citing a half dozen unnamed administration and defense officials, that McMaster was considering options to return to the military.
McMaster became national security adviser after
Michael Flynn's ouster
. Flynn was pushed out after reports revealed that he had spoken with Russia's ambassador to the United States about sanctions before Trump took office and lied about the conversations to other senior administration officials. Since then,
Flynn has pleaded guilty
to lying to the FBI about those conversations, and he is cooperating with special counsel Robert Mueller's probe.
snip
https://projects.fivethirtyeight.com/congress-trump-score/
Democtratic Senators, low to high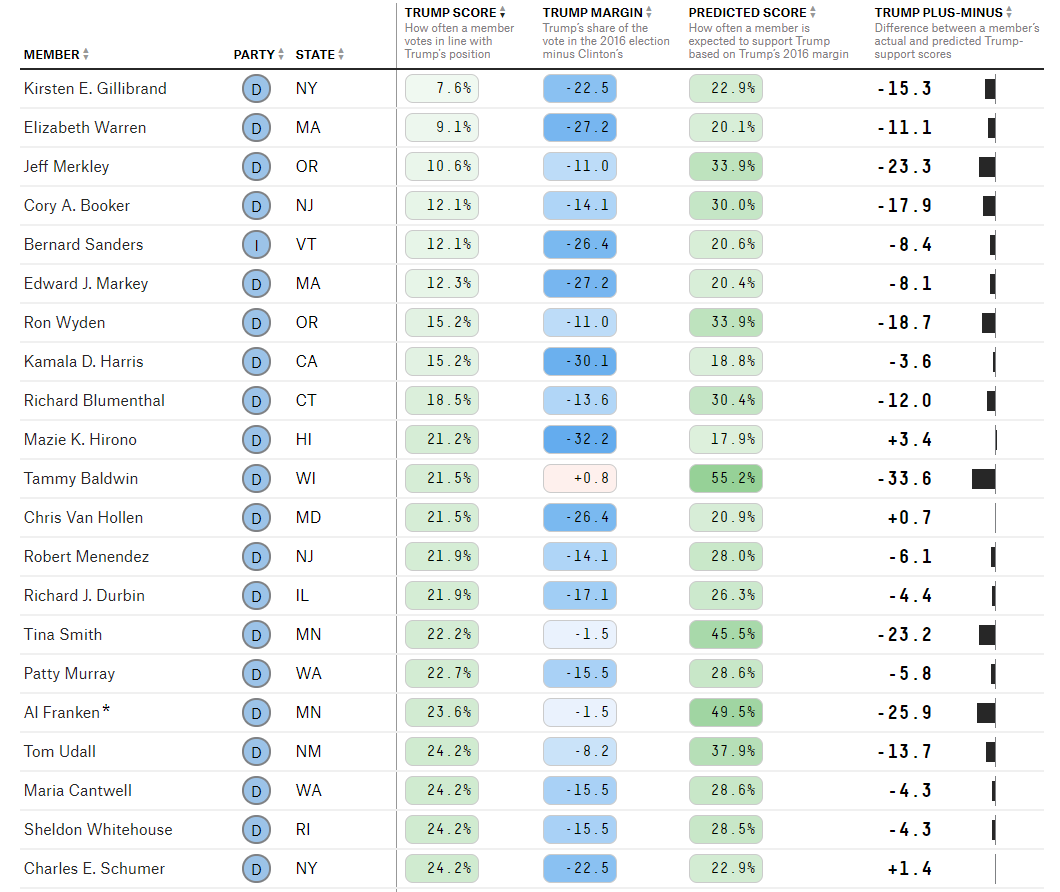 Lowest Democratic House members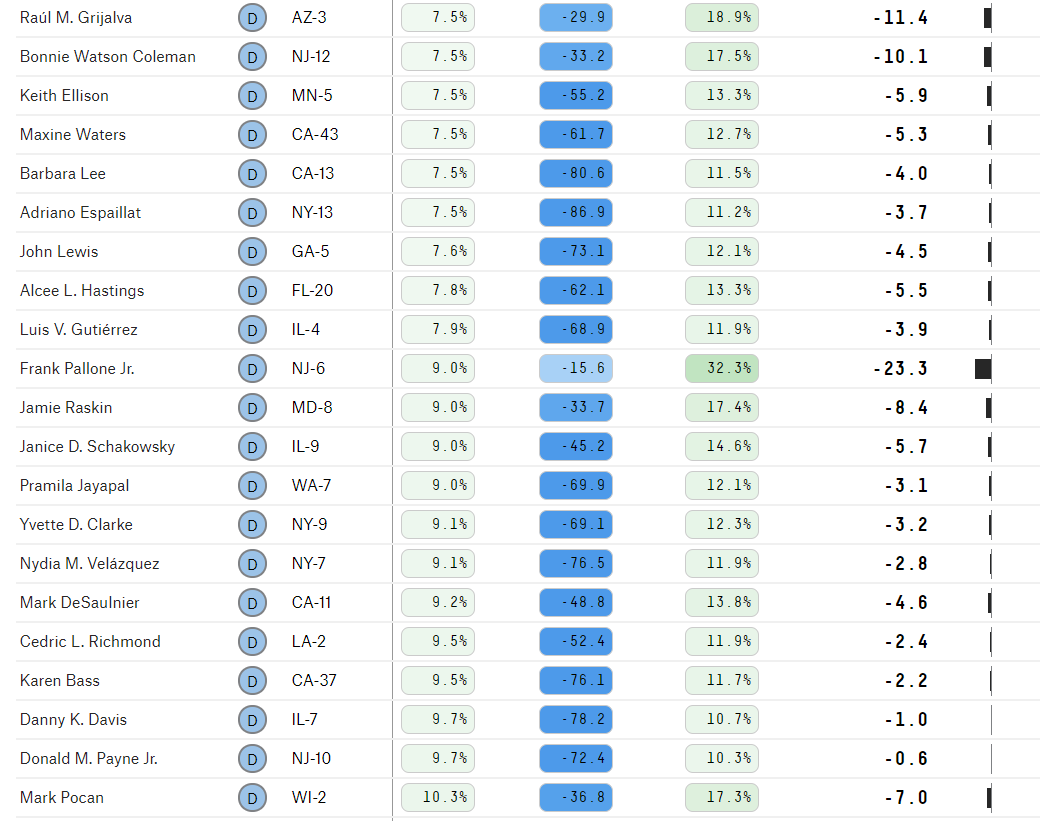 Highest Democratic House members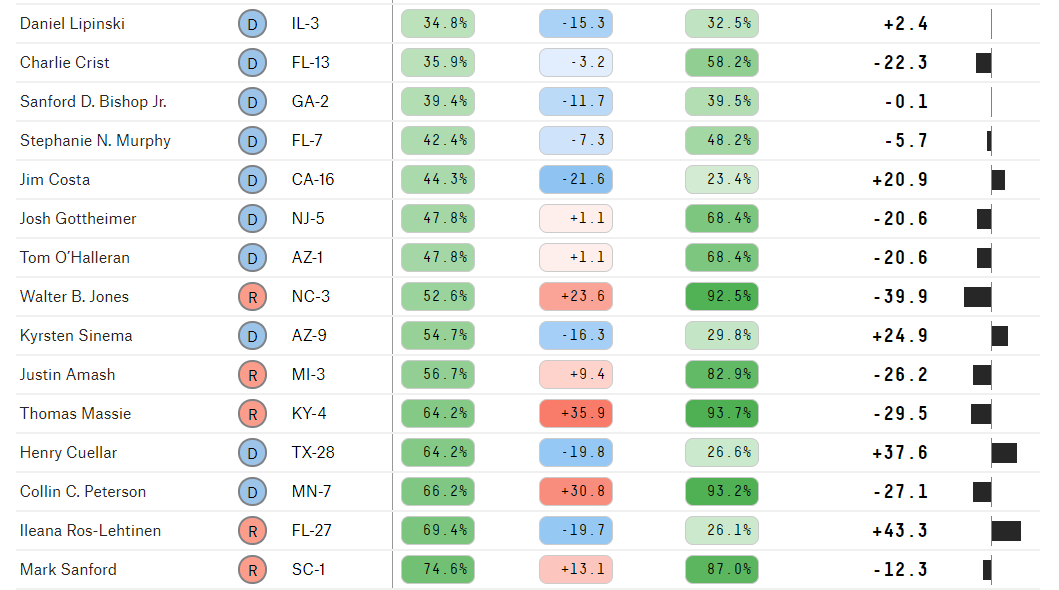 The crowd wasn't happy, and security escorted her out for her protection when the panel ended.
https://www.vox.com/2018/2/24/17048660/cpac-mona-charen-video
snip
Mona Charen, a longtime conservative writer and a senior fellow at the Ethics and Public Policy Center, appeared as a panelist for a discussion called "#UsToo: Left out by the Left." And, when asked what gets her "riled up" about modern feminism, she criticized conservatives for being willing to look the other way about allegations about both Roy Moore — and
President Donald Trump
.
"I'm actually gonna twist this around a bit and say that I'm disappointed in people on our side," Charen said. "For being hypocrites about sexual harassers and abusers of women who are in our party. Who are sitting in the White House. Who brag about their extramarital affairs. Who brag about mistreating women. And because he happens to have an R after his name, we look the other way, we don't complain."
She continued: "This is a party that was ready to endorse — the
Republican Party endorsed Roy Moore
, for the Senate in the state of Alabama even though he was a credibly accused child molester. You can not claim that you stand for women and put up with that." (At this point, several attendees began shouting things like "Not true!" and "It was a witch hunt!")
Later in the discussion,
Charen criticized CPAC itself, for inviting far right French politician Marion Maréchal-Le Pen to speak
. "I think the only reason she was here is because she's named Le Pen," Charen said. "And the Le Pen name is a disgrace. Her grandfather is a racist and a Nazi. She claims that she stands for him. And the fact that CPAC invited her is a disgrace." (She was loudly booed.)
snip
related
Trump's GOP is morphing into France's far right
https://www.washingtonpost.com/news/worldviews/wp/2018/02/23/trumps-gop-is-morphing-into-frances-far-right/?utm_term=.d5928221c7fd
The Conservative Political Action Conference, an annual conclave of the American right, is underway just outside Washington. President Trump will deliver a speech there on Friday, while Vice President Pence opened proceedings Thursday with a paean to his boss's first year in office, a recitation of his Christian bona fides and a Republican rallying cry ahead of pivotal midterm elections this year.
"Even more than in 2017,"
wrote my colleague Dave Weigel
, "this year's conference ... is structured as a celebration of GOP power and Trump-style nationalism."
But it has not gone off without controversy. Marion Maréchal-Le Pen, the youthful niece of French far-right heavyweight Marine Le Pen, also addressed the gathering Thursday. Her appearance dismayed some establishment Republicans, who were not eager to associate with a political faction linked to the dark remnants of European fascism. The acceptance of people such as Maréchal-Le Pen and British anti-immigrant campaigner Nigel Farage, who is speaking Friday, seemed to underscore the hard-rightward drift of the Republican Party.
"These are not conservatives; these are members of an international ethno-nationalist populist movement,"
Matt Lewis, a
moderate Republican commentator, said to NBC News
. But he added that this was in keeping with Trump's ultranationalism. "This new populist nationalist Trumpian vibe, it's no longer a fringe thing. It's the mainstream of CPAC."
snip
The Republican Party liars, racists, coddlers of neo Nazis, paedos, serial sexual abusers, merchants of gun death, and also guilty of being Putin's little poodles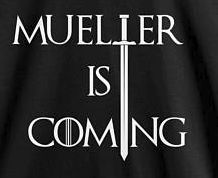 Who will bring to justice the billionaires who have profited so royally from addiction?
https://www.commondreams.org/views/2018/02/22/big-pharma-family-brought-us-opioid-crisis
If the devil wears Prada, what do America's most destructive drug pushers wear? They wear smiles. The drug pushers we have in mind here have caused hundreds of thousands of deaths, enough fatalities to decrease overall U.S. life expectancy at birth for the last two years running. Yet no police SWAT teams have pounded down any doors hunting these drug pushers down.
These particular drug pushers have devastated millions of families across the United States. Yet some of America's most honorable institutions, outfits ranging from Yale University to the Metropolitan Museum of Art, have spent decades lauding their philanthropic generosity and benevolence.
We're obviously not talking El Chapo or any of his drug-running buddies here. We're talking about the mega-billionaire family behind one of America's most profitable drug-industry empires, the privately held Purdue Pharma.
Last week, flacks at Purdue announced that the company will no longer be flooding doctors' offices with sales representatives hawking OxyContin, the now-notorious opioid painkiller. This move may be the closest admission of guilt we will ever see from Purdue Pharma — or the patriarchs of the Sackler family that gave it birth.
snip
related
The Family That Built an Empire of Pain | The New Yorker
The Sackler dynasty's ruthless marketing of painkillers has generated billions of dollars—and millions of addicts.
https://www.newyorker.com/magazine/2017/10/30/the-family-that-built-an-empire-of-pain
The north wing of the Metropolitan Museum of Art is a vast, airy enclosure featuring a banked wall of glass and the Temple of Dendur, a sandstone monument that was constructed beside the Nile two millennia ago and transported to the Met, brick by brick, as a gift from the Egyptian government. The space, which opened in 1978 and is known as the Sackler Wing, is also itself a monument, to one of America's great philanthropic dynasties. The Brooklyn-born brothers Arthur, Mortimer, and Raymond Sackler, all physicians, donated lavishly during their lifetimes to an astounding range of institutions, many of which today bear the family name: the Sackler Gallery, in Washington; the Sackler Museum, at Harvard; the Sackler Center for Arts Education, at the Guggenheim; the Sackler Wing at the Louvre; and Sackler institutes and facilities at Columbia, Oxford, and a dozen other universities. The Sacklers have endowed professorships and underwritten medical research. The art scholar Thomas Lawton once likened the eldest brother, Arthur, to "a modern Medici." Before Arthur's death, in 1987, he advised his children, "Leave the world a better place than when you entered it."
Mortimer died in 2010, and Raymond died earlier this year. The brothers bequeathed to their heirs a laudable tradition of benevolence, and an immense fortune with which to indulge it. Arthur's daughter Elizabeth is on the board of the Brooklyn Museum, where she endowed the Elizabeth A. Sackler Center for Feminist Art. Raymond's sons, Richard and Jonathan, established a professorship at Yale Cancer Center. "My father raised Jon and me to believe that philanthropy is an important part of how we should fill our lives," Richard has said. Marissa Sackler, the thirty-six-year-old daughter of Mortimer and his third wife, Theresa Rowling, founded Beespace, a nonprofit "incubator" that supports organizations like the Malala Fund. Sackler recently told W that she finds the word "philanthropy" old-fashioned. She considers herself a "social entrepreneur."
When the Met was originally built, in 1880, one of its trustees, the lawyer Joseph Choate, gave a speech to Gilded Age industrialists who had gathered to celebrate its dedication, and, in a bid for their support, offered the sly observation that what philanthropy really buys is immortality: "Think of it, ye millionaires of many markets, what glory may yet be yours, if you only listen to our advice, to convert pork into porcelain, grain and produce into priceless pottery, the rude ores of commerce into sculptured marble." Through such transubstantiation, many fortunes have passed into enduring civic institutions. Over time, the origins of a clan's largesse are largely forgotten, and we recall only the philanthropic legacy, prompted by the name on the building. According to Forbes,
the Sacklers are now one of America's richest families
, with a collective net worth of thirteen billion dollars—more than the Rockefellers or the Mellons. The bulk of the Sacklers' fortune has been accumulated only in recent decades, yet the source of their wealth is to most people as obscure as that of the robber barons. While the Sacklers are interviewed regularly on the subject of their generosity, they almost never speak publicly about the family business, Purdue Pharma—a privately held company, based in Stamford, Connecticut, that developed the prescription painkiller OxyContin. Upon its release, in 1995, OxyContin was hailed as a medical breakthrough, a long-lasting narcotic that could help patients suffering from moderate to severe pain. The drug became a blockbuster, and has reportedly generated some thirty-five billion dollars in revenue for Purdue.
But OxyContin is a controversial drug. Its sole active ingredient is oxycodone, a chemical cousin of heroin which is up to twice as powerful as morphine. In the past, doctors had been reluctant to prescribe strong opioids—as synthetic drugs derived from opium are known—except for acute cancer pain and end-of-life palliative care, because of a long-standing, and well-founded, fear about the addictive properties of these drugs. "Few drugs are as dangerous as the opioids," David Kessler, the former commissioner of the Food and Drug Administration, told me.
snip
superb article
https://www.nature.com/articles/d41586-018-02434-y
Policymakers in the United States are pushing to give the public more power to influence what educators teach students. Last week, Florida's legislature started considering two related bills that, if enacted, would let residents recommend which instructional materials teachers in their school district use in their classrooms.
The bills build on a law enacted in June 2017, which enables any Florida resident to challenge the textbooks and other educational tools used in their district as being biased or inaccurate. In the five months after the state's governor approved the law, residents filed at least seven complaints, including two that challenge the teaching of evolution and human-driven climate change, according to the Associated Press.
But the bills approved this month by the education committees in the state's Senate and House of Representatives go a step further, because they would allow the public to review educational materials used in class and to suggest alternatives.
"They would make it easier for creationists, climate-change deniers and — who knows — flat-Earthers to pester their local school boards about their hobbyhorses," says Glenn Branch, deputy director of the National Center for Science Education in Oakland, California.
The final decision on whether to follow the recommendations still rests with the school boards.
Roundabout route
Attempts to influence what students learn typically tend to tackle the issue head-on, with measures aimed at changing state education standards. Last year, Idaho's legislature scrapped all references to human-driven global warming from the state's science standards. And an Iowa bill introduced on 12 February would do something similar by removing guidelines to teach evolution and the effects of human activity on climate (see 'Targeting education').
snip