Thu Jan 21, 2016, 09:39 PM
riversedge (61,678 posts)
EYES ON IOWA: TRUMP AND CLINTON SURGE 10 DAYS BEFORE THE CAUCUS. CRUZ AND SANDERS FALTERING AT FINI [View all]
This discussion thread was locked as off-topic by In_The_Wind (a host of the Latest Breaking News forum).
Source:
www.theecps.com
EYES ON IOWA: TRUMP AND CLINTON SURGE 10 DAYS BEFORE THE CAUCUS. CRUZ AND SANDERS FALTERING AT FINISH.
http://www.theecps.com/
January 21, 2016
In a new, statewide Iowa poll, Hillary Clinton and Donald Trump have surged to 9 and 10 point leads in Iowa with just 10 days before the first in the nation voting begins. Clinton receives 52% of the vote and Sanders at 43%. Trump leads his Republican rivals with 33%, followed by Ted Cruz at 23%, Marco Rubio (14%), and Ben Carson (9%) round out the top four with the rest of field under 6%; Rick Santorum -- who won the 2012 Iowa GOP Caucus with 25% of the vote -- has less than 1% of Iowans this time around, and Mike Huckabee who won the 2008 Iowa Caucus is at 2%.
The survey began January 18, the day after the latest Democrat debate, and concluded January 20, the day following Sarah Palinís endorsement of Donald Trump................
X-posted from Hillary Group
Read more:
http://www.theecps.com/
---
Well-Hillary has 2 Iowa polls today showing 9+ points over Sanders,
While Sanders has 1 poll where is up +8.
It is now over yet ladies and gents . Now carry on.
Clinton 52, Sanders 43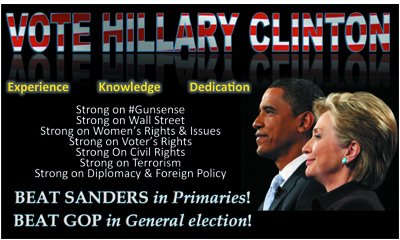 27 replies, 2431 views
Cannot reply in locked threads
Replies to this discussion thread
27 replies
Author
Time
Post

EYES ON IOWA: TRUMP AND CLINTON SURGE 10 DAYS BEFORE THE CAUCUS. CRUZ AND SANDERS FALTERING AT FINI

[View all]

riversedge
Jan 2016
OP
morningfog
Jan 2016
#1
draa
Jan 2016
#2
scottie55
Jan 2016
#3
andrewv1
Jan 2016
#4
riversedge
Jan 2016
#11
ViseGrip
Jan 2016
#15
snooper2
Jan 2016
#25
Kingofalldems
Jan 2016
#5
andrewv1
Jan 2016
#8
andrewv1
Jan 2016
#6
LannyDeVaney
Jan 2016
#7
riversedge
Jan 2016
#20
Agony
Jan 2016
#9
Gmak
Jan 2016
#10
bigworld
Jan 2016
#12
Elmer S. E. Dump
Jan 2016
#24
Rosa Luxemburg
Jan 2016
#13
murielm99
Jan 2016
#14
riversedge
Jan 2016
#21
Marrah_G
Jan 2016
#16
JackRiddler
Jan 2016
#17
Mufaddal
Jan 2016
#18
Samantha
Jan 2016
#19
left-of-center2012
Jan 2016
#22
left-of-center2012
Jan 2016
#23
riversedge
Jan 2016
#26
In_The_Wind
Jan 2016
#27