Mon Nov 8, 2021, 08:53 AM
Omaha Steve (82,822 posts)
Satellite images show China built mock-ups of US warships [View all]
Source:
AP
BEIJING (AP) — Satellite images show China has built mock-ups of a U.S. Navy aircraft carrier and destroyer in its northwestern desert, possibly for practice for a future naval clash as tensions rise between the nations.
China has massively upgraded its military in recent years, and its capability and intentions are increasingly concerning to the United States as tensions rise over the South China Sea, Taiwan and military supremacy in the Indo-Pacific.
The images captured by Colorado-based satellite imagery company Maxar Technologies dated Sunday show the outlines of a U.S. aircraft carrier and at least one destroyer sitting on a railway track.
Maxar identified the location as Ruoqiang, a Taklamakan Desert county in the northwestern Xinjiang region.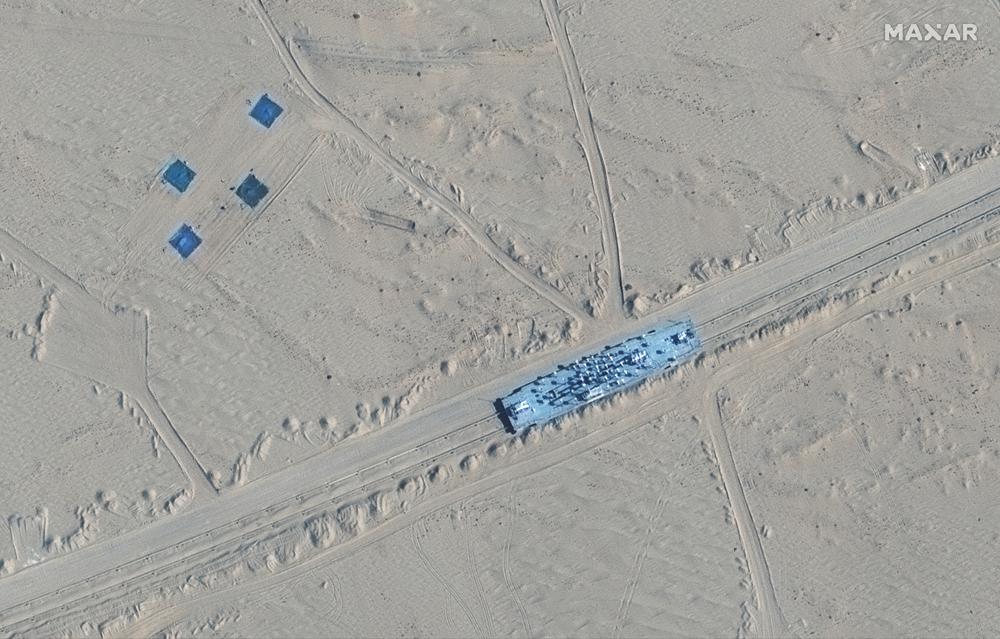 This satellite image provided by Maxar Technologies shows a building on rail tracks in Ruoqiang county, China, Wednesday, Oct. 20, 2021. Satellite images appear to show China has built mock-ups of U.S. Navy aircraft carriers and destroyers in its northwestern desert, such as one at center in this image, possibly as practice for a future naval clash as tensions rise between the nations. (Maxar Technologies via AP)
Read more:
https://apnews.com/article/business-china-united-states-beijing-navy-da8da0eb9a4a6d9e53671d25837cae11
52 replies, 3273 views
Replies to this discussion thread
52 replies
Author
Time
Post

Satellite images show China built mock-ups of US warships

[View all]

Omaha Steve
Nov 8
OP
NurseJackie
Nov 8
#1
Alexander Of Assyria
Nov 8
#3
4Q2u2
Nov 8
#5
Igel
Nov 8
#31
NurseJackie
Nov 8
#33
EX500rider
Nov 8
#35
Alexander Of Assyria
Nov 8
#2
marble falls
Nov 8
#4
Alexander Of Assyria
Nov 8
#6
EX500rider
Nov 8
#36
Alexander Of Assyria
Nov 10
#46
bucolic_frolic
Nov 8
#7
TreasonousBastard
Nov 8
#8
EX500rider
Nov 8
#37
Calista241
Nov 9
#43
Alexander Of Assyria
Nov 10
#47
EX500rider
Nov 10
#49
Alexander Of Assyria
Nov 11
#51
EX500rider
Nov 11
#52
doc03
Nov 8
#9
bluewater
Nov 8
#30
reACTIONary
Nov 8
#42
Calista241
Nov 9
#44
OneCrazyDiamond
Nov 8
#10
Alexander Of Assyria
Nov 8
#12
OneCrazyDiamond
Nov 8
#13
Fred Garvin
Nov 8
#19
Alexander Of Assyria
Nov 8
#34
Gore1FL
Nov 8
#11
AZLD4Candidate
Nov 8
#14
sarisataka
Nov 8
#16
AZLD4Candidate
Nov 8
#22
sarisataka
Nov 8
#26
Igel
Nov 8
#32
Fred Garvin
Nov 8
#18
AZLD4Candidate
Nov 8
#24
marble falls
Nov 8
#40
Fred Garvin
Nov 8
#20
AZLD4Candidate
Nov 8
#23
ThoughtCriminal
Nov 8
#15
Mysterian
Nov 8
#17
LudwigPastorius
Nov 8
#21
soryang
Nov 8
#39
jgmiller
Nov 8
#25
Evolve Dammit
Nov 8
#27
Sapient Donkey
Nov 8
#28
KG
Nov 8
#29
EX500rider
Nov 8
#38
Red Mountain
Nov 8
#41
Calista241
Nov 9
#45
EX500rider
Nov 10
#50
jrandom421
Nov 10
#48